As I mentioned in my geoboard entry, our new Bridges math curriculum encourages the use of all sorts of engaging manipulatives. For our calendar grid this month, we have been working on identifying 3D figures based on three different views (top view, right side view, front view).  Often times students are asked to build the figure in order to help them decide which figure the views are from. This is exciting, but it is also very time consuming.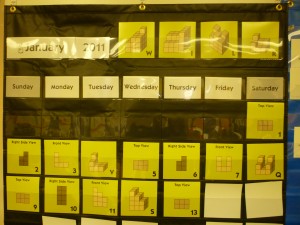 To simplify and enhance this process I've been using some tools and games from this web site, called Reken Web Games, where there are multiple games and activities that have to do with building figures using blocks.  There is one specific game called "Building Houses with Side Views" that matches exactly what we are doing in class this month during calendar grid.
After my students played this game for a few minutes, it was exciting to see how well they understood 3D figures. I was very amazed at how well they were able to build these figures based on three views.  Here is what one student said after completing the hands on version and the computer game version.  "I learned a lot more using the computer program because  you can see it 3-dimentional and you can move it around to see each side. In class we normally have to build them, then draw it and I always end up spending a lot of time erasing it and starting over."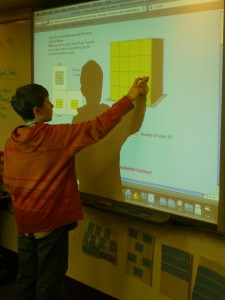 When a student builds the shape correctly, the problem number circle turns green.  Both my students and I love this immediate feedback.  There is also a challenge to use as few blocks as possible to score the most points.
I have linked this site to my class web page, and encourage students to use it to practice at home.