Dear Creeker Families,
Welcome back!  With the start of school just a week away we are gearing up for a great year and look forward to many wonderful times ahead! As we launch the 2018-19 school year I wanted to share some important notes.  I know you are still busy enjoying the summer so I tried (and failed miserably) to keep this as short and sweet as possible–there is so much to share!
First, two quick reminders:
1) If you haven't sent a summer time photo of your child to Patti yet, please do so right away so we can include it in the big collage—JPEG format if possible.  We need to have your photos by the end of the day this Friday in order to include them in our print order.  Otherwise you are welcome to print out your own photo and bring it to school on the first day.  Send photos to Patti: [email protected]
2) New Family Orientation and Watermelon Social are Thursday, August 30.  Orientation is from 4-5pm and the social is from 5-6pm.  Hoping to see you there!
Important Forms
We will be sending home two important forms next week–please complete both sides of the Student Health Information Form (kinder families have already completed this as part of initial enrollment) and Walking Field Trip Permission form and return them to Patti in the office by the end of the first week (Friday, September 7). Children who do not have these forms turned in will be unable to join their classmates on walks to downtown or nearby parks.  These excursions often happen the first few weeks of school.  We love to take advantage of all that is within walking distance from our little school.
School Supply donation reminder
Please remember that we provide all needed school supplies (except for backpacks, lunch boxes, and water bottles) here at school.  As referenced in my note from last week we ask for a school supply donation of $75 for Kinder-Grade 2 and $90 for Grades 3-5 (includes field trips) that can be dropped in the Friends of Amity mailbox just outside the office.  PLEASE MAKE CHECKS PAYABLE TO FRIENDS OF AMITY.
You can now pay on line for school supplies through our Friends of Amity Website!  Follow this link:http://www.friendsofamitycreek.com/schoolsupplies/
Visiting and Volunteering
We love having you at school and we hope you are able to join us for many community events, and that you are able to volunteer in the classrooms.  You can greatly help us streamline our volunteer check in by going to the following link and filling out the questionnaire: https://bib.com/Secure-Volunteer/bend-la-pine/. This is for everyone who plans to do more than drop off and pick up only.  As a reminder the background check is good for two years and then you need to reapply.  For those who have reached their two-year mark you will need to reapply!  Also, some of you who did not register with the new system last year will have to register now–if you are not sure if this applies to you please see the note in italics below.
Please remember that even if you are just coming to pick up your child at the end of the day and want to go down the main classroom hallway we need for you to sign in to the visitor management system (in the entry way) and get your sticker from the office.  For the safety of our students, please always remember to sign in/out upon entering and exiting the building.
For those new to the district (never been registered on the visitor management system) please see Patti in the office and bring your valid identification with you—she can get you registered in a flash.  Valid identification includes: driver's license, passport, Mexican Consulate card, or military ID.
Below is a copy of a note sent to families recently:
This year, Bend-La Pine Schools is continuing to implement a new volunteer criminal background check system, Background Investigation Bureau (BIB). Individuals who wish to serve as volunteers may need to reapply through this system. If you know that you will interact within the school district as a volunteer, we would invite you to please complete the updated volunteer criminal background check through BIB between now and the start of the 2018-19 school year. Please remember that if you have already completed the BIB application since its rollout and have received an email confirmation that you have been approved as a volunteer, you do not need to reapply for the upcoming school year. https://bib.com/Secure-Volunteer/bend-la-pine/
Note: When completing your online application with BIB, please remember to use your full legal name as it appears on your driver's license. This will allow us to migrate your volunteer application into the visitor/volunteer management system when you check into our schools and facilities across the district.
Drop off and pick up
As always, we graciously ask for your help in making drop off and pick up time as smooth as possible. We struggle with significant challenges during these times due to our location and lack of easy access.   A few things you can do to help us make these times go as smoothly as possible:
*Please do not park in any of the No Parking areas—which are essentially all the yellow curbs surrounding the school.
*For those picking up on Georgia at the end of the day please be extra conscientious of our neighbors and be sure not to block driveways.  Our kind neighbors put up with a lot living next door to Amity and we try to do everything we can to minimize conflict.  Also, please refrain from parking in the pick up zone which is directly in front of the Georgia Street door.  Thanks!
*You may park in the museum parking lot across the street, but only on the East side of the parking lot (Bond side).  Parking anywhere else in the lot creates traffic and safety issues for students and causes unneeded friction between us and the museum. We are very fortunate to have the option to use the Museum parking lot across Wall Street.  The museum has asked that we respect their wishes and park ONLY in the spaces on the east side of the building.  Most of their volunteers are elderly and they need access to the parking spaces closest to their south side entrance.  Please respect the guidelines. We do realize that parking is not easy in this area, but we need your help to keep things safe and flowing smoothly. We appreciate your support!
Busing and After School Arrangements
There are bus routes to the Educational Center (across from the library and just down the street from Amity) from various points throughout Bend.  If you would like more information please give Patti a call (541-355-2800) and she can help you find the correct route.  If you already know what bus your child will be riding, please let Patti know. It's very important that we know your child's daily schedule for riding the bus as we need to have an adult available to escort students to and from the bus.  Also, please let Patti and your child's teacher know if transportation arrangements change.
Additionally, please let Patti know about after school arrangements if they include walking home, Boys and Girls Club, and Kids Inc.  It's vitally important that we know this information to be sure your child gets safely to their desired location.
Start of the Day
Our day begins at 8:45am but we would love for all children to arrive at 8:30am to check in, touch base, and get ready for their day.  The morning bell rings at 8:40am, giving the children time to walk to the gym for Community Time, which begins at 8:45am.  As you know, each Community Time agenda is packed and the children hosting Community Time expect the school community to be seated and ready to go by 8:45am.  Please help us honor the hard work that goes into the planning and preparation of Community Time by ensuring that your children are settled in the gym by 8:45am. Parents are always welcome to attend, and we look forward to many fun and entertaining mornings ahead!
Awesome Musical Opportunities For Your Creeker
This year will see the continuation of our Choir, Guitar, and Ukulele groups, though some of the details have changed. Here is what you need to know in order for your child to take advantage of these opportunities:
*The groups are open to 1st-5th graders and a student may join as many of the groups as they like.
*As these groups work together to be performance ready, there is an expectation that they attend practices and participate fully in the group.
*All 3 groups will begin meeting the second week of school and will meet once per week.
*The school has instruments to loan to students for rehearsals at school.
*All 3 groups meet on the stage.
When:
~Guitar group: Mondays at lunch recess
~Ukulele group: Tuesdays at lunch recess
~Choir: This year we are trying something new—choir will now meet on Tuesday mornings before the start of school starting at 8:15am.
Friday After School Recess
Please join us Friday afternoons from 3:30-4:00pm on the playground for socializing, connecting, and growing our community.  If you will be joining us on Fridays we ask that you pick up your child in their classroom at 3:30 and escort them out to the playground.  We'll have balls and other play equipment for the kids, and perhaps some games for adults, too!  We look forward to having a chance to socialize with you on Fridays!
Family Handbook and Calendar
Bend-La Pine Schools publishes a district Family Handbook and Calendar every year.  The District will be mailing these directly to your home.  In the meantime you can access the handbook on the district website (www.bend.k12.or.us.)Please read the information and review it with your child. If you have any questions, please give me a call (541-355-2802).
 You can also access the school year calendar on the district website, under the parent dashboard (https://www.bend.k12.or.us/district/parents/dashboard).  This calendar indicates all the holidays, in-service days, and early release Wednesdays (starting September 12) for the coming school year.  Of course we will have special events here at school and we will notify you of the events on an on-going basis.
School Improvement Wednesdays
We begin Early Release Wednesdays on September 12:  Our dismissal time will be at 2:00pm(3:30 on all other days).  This means that the first day of school is a full day—dismissal at 3:30pm.
Scholastic Book Fair is coming next week!


Our annual Scholastic Book Fair will be held September 10-14, and will culminate on Friday, September 14 at the Concert on the Green.  Each year this fair helps the school to receive dozens of great books for free—the more you buy, the more free books the school earns! Parent Autumn Persinger is coordinating this (thank you Autumn!!) and would appreciate some volunteer support—please contact her if you can help:[email protected]
PASTINI PASTARIA- THE PASTATHON IS ON!
September 24th & September 25th from 5:00 pm – 9:00 pm.  Pastini Pastaria in the Old Mill is hosting two nights as a fundraising opportunity for Amity Creek. On Monday, September 24 and Tuesday, September 25, 50% of all profits for both evenings will go to help fund our arts and music programs.  All you need to do is mention the fundraiser when you are dining to get credit!
Back to School Night
Please join us on September 19 starting at 5:30pm.  We will share lots of information about important and exciting things going on at school, discuss the many ways you can get involved as a volunteer, and you will have time in the classroom with your child's teacher.  Child care will be provided on the playground for school age children—we kindly request you make other arrangements for younger children.
Family Pancake Breakfast!
On Friday, September 21st the staff will be flipping pancakes for our families!  Please mark your calendars for this very popular Amity Community gathering. This is an opportunity to meet our new families and reconnect with old friends.  This is a FREE event so just bring your appetite–doors open at 7:00am and we will continue to provide food until the kids head off to Camp Amity for the day. Gluten free pancakes will be available.
Nutrition Services
For the 2018-19 school year, breakfast will be $1.75 (no charge or a lesser charge to families who qualify for free or reduced meal prices) and lunch will be $2.50 (no charge or a lesser charge to families who qualify for free or reduced meal prices).  Milk and juice may be purchased separately for $.75.  Soymilk is $1.25. For your convenience, we have added a link to our district nutrition office to apply for free/reduced cost meals: https://district.ode.state.or.us/apps/frlapp/. All information is held confidential. Nutrition Services continues to improve on the quality and nutrition of the meals it prepares such as eliminating trans-fats from all on-site baked goods, offering low fat, low sugar, gluten free items, and farm-fresh produce from local farmers.  Families who apply for reduced/free priced meals bring much-needed federal funds to our school so don't be shy about filling out an application. Additionally, all families may create accounts and pay online at https://blpay.bend.k12.or.us/.  This also allows you to keep track of the money in your children's accounts. As always, you are welcome to join your child for breakfast or lunch. Breakfast is served in the cafeteria from 8:30-8:45am each day and lunch begins at 11:55am and ends at 12:15pm. Note: We DO NOT have a microwave at school for student use.
iPad Roll Out for Grades 3-5
We will have our iPad rollout the 3rdor 4thweek of September.  Please look for a special note from us coming soon.
Label, Label, Label
Please remember to label your children's belongings with their name or initials (backpacks, lunch boxes and containers, water bottles, and all clothing).  This will help reduce the number of items donated to charity at the end of each month.  Permanent markers are always available in the office–we even have silver sharpies that show up great on black items.
Article to Share
As you know from time to time I like to share interesting articles about education, children, and parenting that I have read. You know how much I love talking about this stuff so feel free to drop by for a chat!  Here is an article I read over the summer that I thought you might be interested in:
*Joyful Schools: What One U.S. Educator Learned From Teaching in Finland: Lessons from Finland.  This summer Amity teachers and I read a book called Teach Like Finland and were very inspired by it. This article captures some of what we found to be very valuable about the Finnish educational system.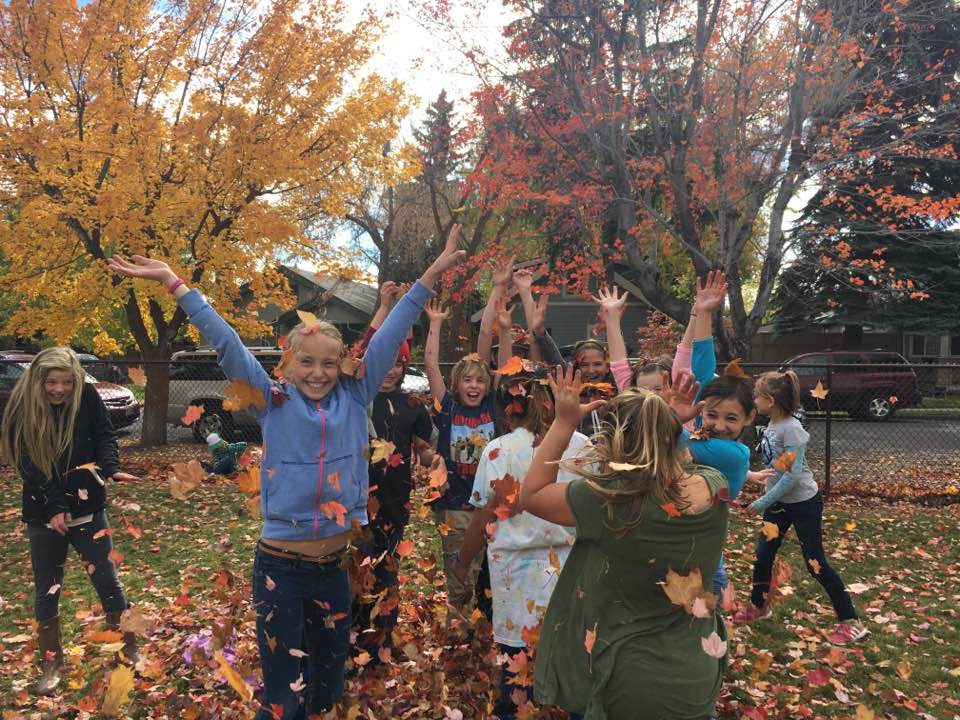 Follow us on FB
We now have an official school Facebook page and a parent community page:
*School Site: This site will be used as an informational site—big events, etc.  On this page you are welcome comment on posts (but no posting). If you'd like to follow us on the school page simply Click on the "like" button on the page.  https://www.facebook.com/AmityCreek/
*Creeker parent site: As stated on the page this is "A place for the Amity Creek community to stay connected, share resources and support each other along this journey with our kiddos. Post your questions, event details, observations, helpful tips, volunteer support, share your support and keep the connection among our special school community thriving!"  You need to request permission to join the site and once you have joined you can post and comment. https://www.facebook.com/groups/CreekerCommunity/
Upcoming dates
*September 5: First day of school (all grades, including Kinder!)  Doors open early on the first day—8:15am, school starts at 8:45am.
*September 10-14: Scholastic Book Fair—stock up on new books for the first part of the school year.
*September 14: Concert on the Green—It's back for a second year!  Picnic and music on the field here at school–more details coming soon.  5-8pm @Amity
*September 19: Back to School Night, 5:30-7pm. Child care will be available.
*September  20-21: Fall Camp Amity!
*September 21: Annual Pancake Breakfast.  Join us for pancakes prepared by the staff. Breakfast is from 7-8:30am.
*September  24-25: Pastini Pasta Fundraiser, 5-9pm.  Support our Music and Art programs!
*October 3: School pictures—dress to impress
That's it from me for now–I look forward to seeing you all on the first day of school!
Andy