Greetings Creeker Families,
This will be the last newsletter of 2018, and as a gift to you I will try to keep it short!  You will not be able to say I haven't given you a gift this year!
In this newsletter:
*Song and Sing-a-Long
*Winter Clothing
*Planetarium Coming to Amity Creek
*The Auction is coming!
*Hand washing
*Celebrating Alexander's (our Sparrow) birthday
*Orange United–do you know about this?
*Playground use after school
*Share input on new attendance area map options
*Article of the Month
Amity Creek "Song and Sing-A-Long" is December 12, 5:30-6:30pm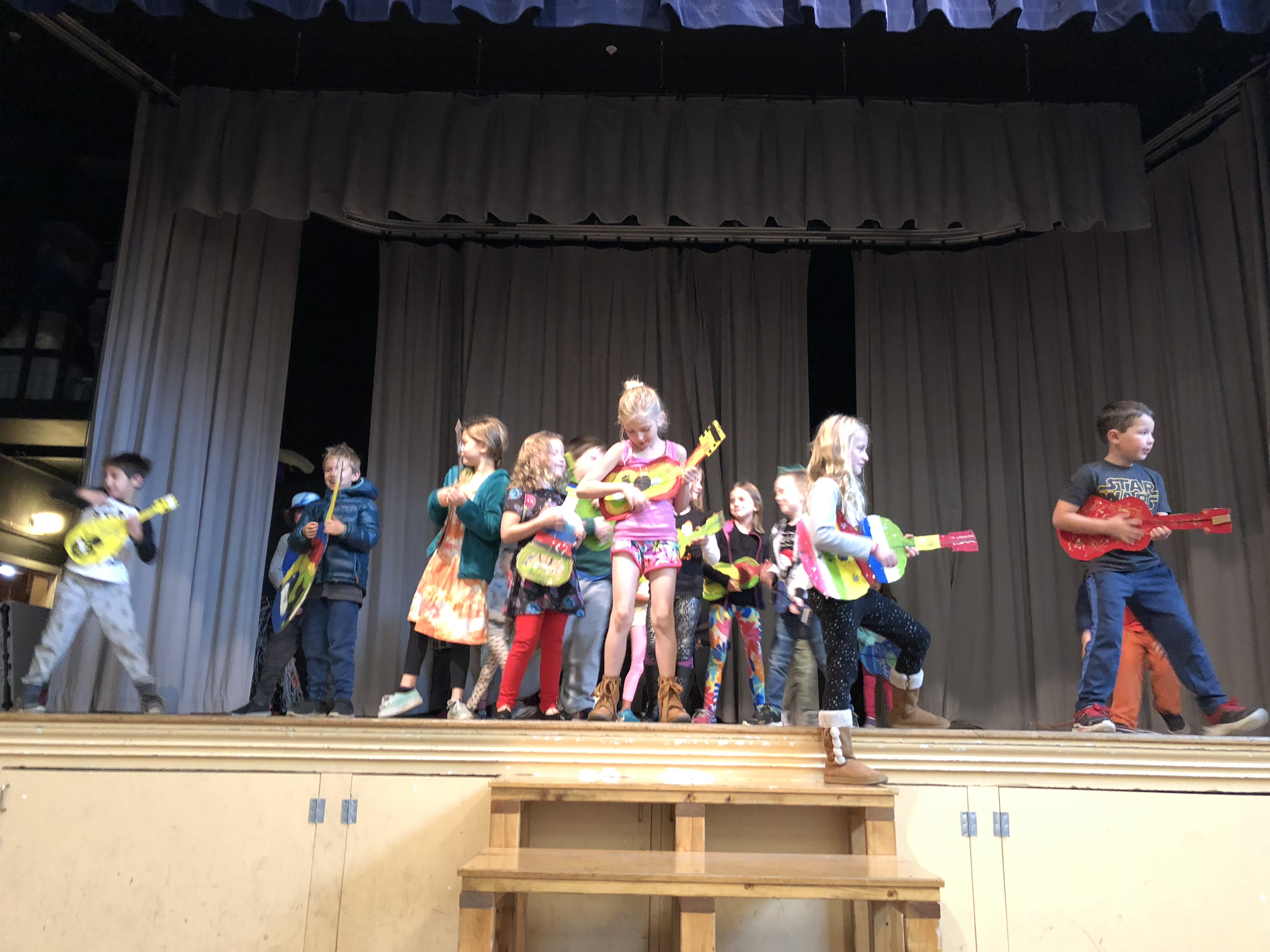 The classes have been practicing and are excited to be sharing the gift of music with you next Wednesday!  The show will include songs performed by each of the classes, songs from lunch time groups (guitar, ukulele, and choir) and some audience sing-a-longs.  We will also have a few special guests (hint: Amity graduates) who will be performing as well!
Please remember that seating is VERY limited and we want to be able to accommodate all parents. We will be sitting on the ground (Community Time style) so you may want to bring a seat cushion.  Also, there will be a few chairs set up in the back for those who need them, but these, too, will be in limited numbers.  With limited space we are encouraging families to video their child's performance and share with extended family members.
Grant received!

This morning we were surprised by the fine folks at Northwest Community Credit Union with a check for $1,250.00!  Recently Wendy applied for a grant to help fund a hanging fence garden at Amity and today she was awarded the grant.  Planting will begin in the spring and we'll have a beautiful garden growing along the fence!  Congrats to Wendy!

Winter Clothing
Winter has officially arrived, and with it comes our cold weather clothing.  As the layers begin to increase we'd like to remind you to LABEL, LABEL, LABEL everything your child is wearing to school–this includes gloves, hats, jackets, snow gear, and boots.  Let's see if we can avoid the insane amount of lost and found that often accumulates this time of year!

The Annual Amity Creek Auction is coming!
The auction is just a few short months away and there's lots going on already in preparation for
this important event.  This year's Auction date is Saturday, February 23rd.  If you would like to volunteer please email Magadalyn, the auction coordinator:  [email protected]
The first two auction meetings to form committees and sign up to help in the early stages:
*Monday December 10th @ 9am ( at Amity right after Community time)
*Tuesday the 18th @ 4pm @ Market of Choice (Upstairs of the Cafe)
Planetarium Coming to Amity Creek

In collaboration with the Oregon Observatory we have the special treat of hosting the inflatable Planetarium Dome here at Amity on December 13 and 14.  Each class will get a chance to soar through the universe on a magical celestial journey!  A big thanks to Grade 1 parent Jon Dude who helped connect me with the observatory to secure this opportunity.

Celebrating Alexander's (our Sparrow) birthday
In case you missed it, last Wednesday we got to celebrate Alexander's birthday.  The Kinders did a wonderful job of singing him happy birthday in both English and Spanish!  We also presented Alexander's mother with the money we collected during our coin drive–$309.94.  It was a wonderful little celebration!

Hand washing
Did you know that studies have shown that hand washing can prevent 1 in 3 diarrhea-related sicknesses and 1 in 5 respiratory infections, such as a cold or the flu?  It's true!  In our efforts to prevent the unnecessary spread of such sicknesses and infections at school we have recently started a hand washing station for students as they enter the cafeteria for lunch.  Since we lack the capacity to have every child wash their hands with soap and water in the bathroom at lunch time we have chosen to use a hand sanitizer.  At all other times of the day (using the bathroom, after coughing/sneezing, etc) we encourage students to wash their hands with good ol' soap and water.  If you would prefer that your child wash with soap and water at lunch time please discuss this with your child and also let us know so we can be supportive.
Orange United–do you know about this?

Charlie Hobin, a local Bendite, and friend of Heidi and her family recently started an organization called Orange United.  Their mission:  Orange United is a school safety awareness movement. We believe that by coming together, raising money, and performing random acts of kindness we can improve the safety of schools and local communities.  We are hoping to achieve all of this through the sale of our bracelet. $5 of every $10 bracelet sold will be donated to our partner Safe and Sound Schools, a national nonprofit started by two moms of Sandy Hook Elementary, to support school crisis prevention, response, and recovery in every school every day.
If you want to know more, purchase a bracelet, or you are interested in joining the movement follow this link: www.orangeunited.org.
Use of the Playground After School
I have noticed with great joy that some of you are sticking around after school and making use of the playground.  For those that are making use of the playground I just want to mention a few things:  1)  We ask that you not take balls from our supply to use after school.  We are finding that balls are being left on the playground over night and that our supply of balls is dwindling; 2) Once you pick your child up from the classroom they are under your care on the playground after school hours, we do not offer any supervision during this time. That's it, please continue to enjoy this public space after hours!
Share input on new attendance area map options
In preparation for the fall 2019 opening of Bend-La Pine Schools' new 600-seat elementary school in north-central Bend, a volunteer team – working with district staff — is reviewing and adjusting current attendance areas to balance enrollment for elementary schools in Bend. Community members are invited to attend one of two upcoming open house style public meetings to review new attendance area maps options and share input with members of the Attendance Area Review Committee:
*Tuesday, Dec. 4 from 4:30 to 6:30 p.m. at Sky View Middle School
*Thursday, Dec. 6 from 4:30 to 6:30 p.m. at Pacific Crest Middle School
Changes to attendance areas are expected to affect all neighborhood elementary schools in Bend and will take effect in the fall of 2019. Map options will also be available online Dec. 4 at www.bend.k12.or.us/boundaries
Article of the Month
I thought an article about the importance of giving and generosity would be fitting for this time of year.  Intentional efforts to share the importance of giving with your children is such an important part of their development (and part of the Circle of Courage–Belonging, Independence, Mastery, and Generosity):
Upcoming dates:
*December 12: Song and Sing-a-long, 5:30-6:30pm
*December 13/14: Planetarium Dome at Amity!
*December 24-January 4: Winter Break, NO School
*February 23: Annual Auction!
Well, my gift to you was to "try and keep it short".  I did try, I just didn't succeed.  I'll have to think of another gift to give you…
See you in the hallway,
Andy