Edmodo (www.edmodo.com) is a private social networking site that allows teachers to create groups so students can share their work and reflect on each other's projects.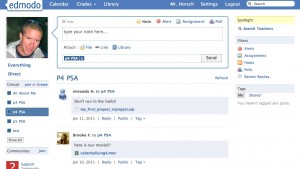 In my 7th grade Media Studies class, groups of students made a public service announcement(psa) targeted at middle schoolers.  Instead of showing the 10 or so each class created on the projector, I used edmodo to have each group upload their psa (shared using quicktime from iMovie) and watch the videos independently and give feedback on the quality of the video and the motivational aspect of the message.
What used to be a brutal class period or two, with limited feedback from and for students, has become a rich 30 minute small group task where every group gets feedback about their videos, and creator groups can respond to questions raised about their videos.
Students need a login and password (which they create) but they don't need an email to gain access to the group.  When you (the teacher) create a group, it generates a random code that students use to access the group.  You can change the code, delete users, delete comments, or invite others to join the group.