I have been getting my students ready to take the Oregon State Writing test and wanted to introduce 3 different ways of looking up misspelled words.  In order to give them a chance to do all 3 choices in short time (30 minutes), I had them rotate through the 3 stations to experience and reflect on the usefulness of three different tools.
The three stations were:
1.  Microsoft Word's spell checker (with the automatic spell check disabled, but the ability to suggest corrections enabled).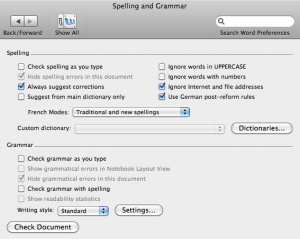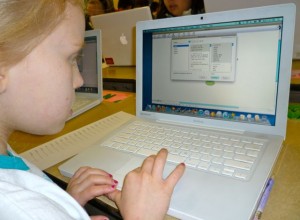 2.  The Word Guide in Inspiration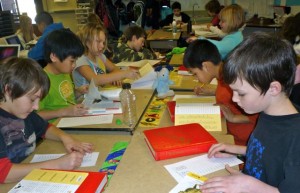 3.  A dictionary (they had a choice of two, a small personal dictionary, or the regular formal dictionary.)
Each student was given a list of misspelled words that I created, hoping to imitate some of the common errors I had recently seen in class.
I projected a timer so they knew how long they had at each station.  This helped a lot with their focus!
Some of the pitfalls to this were that the words they were trying to spell correct were in a list, so the students didn't have a context to guess what word it was supposed to be, if it wasn't obvious.  For example, I'd listed "alot" hoping they would realize it needed to be spelled "a lot", but the spell checkers also suggested "allot" which could also have been correct.  We found that when using Inspiration, students had the advantage of seeing the definition of a word, but had to have the word spelled almost correct for Inspiration to recognize it.  Also, Inspiration separated the words by syllables and that confused some students.
Microsoft Word had the advantage of offering a large amount of words for the students to choose from when they typed their word, but didn't have a dictionary to tell them the definition.
As far as the 'contest' goes, I didn't really do much with it, but it gave the lesson a more fun, competitive feel, like looking up words can be FUN!
At the end of the lesson I took an informal poll on which of the three they liked, and it was spread equally throughout the class.  I felt this was a good activity to get students used to different ways to look up words and let them figure out which way worked best for them, or for a given situation.  Next time I would use words in a sentence, or better yet, have them look up words from their own writing!