I do a unit every year where students create a mental map of the world in their head.  Part of the process of doing this is experiencing the world map in many different forms, from drawing it on white boards to cutting and pasting it.  This year I decided to build this lesson around a smart board activity I found on the SMART Exchange website and it worked very well.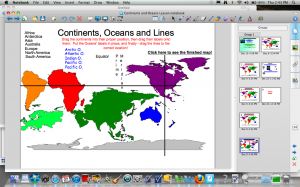 The SMART lesson has many slides that show the continents, oceans, prime meridian and equator.  These are the four things we had been focused on previously.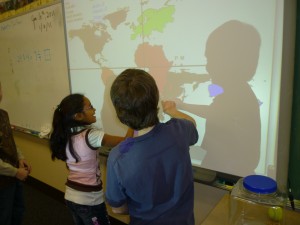 The heart of the lesson was having students come to the smart board in groups of three to put the continents, oceans, prime meridian and equator in the correct locations.

While each group was doing this, other students were working on drawing and labeling a map of the world on a blank piece of paper.

This was a very quick activity to reinforce a week-long unit.  Students were engaged and had fun.  The SMART Board was an engaging learning center that students were excited to use!