Recently my kids have begun making survival guides using computers.  These survival guides are designed to be about topics kids are "experts" on.  For example, "How to Survive 4th Grade" or "How to Survive Having an Older Sister" (they love these topics).
Basically, the kids will use laptops to prewrite, draft, revise and publish then print out their writing and put it into the book they are making.  I really like this lesson because it involves technology, writing and art!
Here's the rundown:
To begin students will use Kidspiration, an application that makes it easy for them to organize their thoughts and writing.  They create a bubble with their topic in the center and then 4 attached bubbles with the sub-topics and their descriptive paragraphs.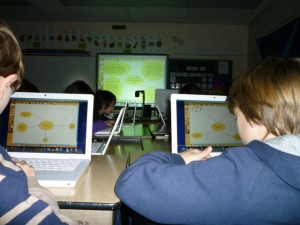 Once the graphic organizer is complete we move to the writing view in Kidspiration where students edit, revise and make sure their writing is ready for publication.
Next, we export to Microsoft Word where fonts can be altered and the document can be printed.  Here it is important to remember to make sure the kids adjust margins to the correct size for their books.  The books I make are only 6″ wide so the margins need to be adjusted accordingly.  This is an important step and easy to forget.
Once the document is printed students cut and paste into their book and draw corresponding pictures.  Their last step is decorating the cover.
This lesson takes time so be patient.  The reward and payoff are awesome.  I've done this assignment for a few years and it's a huge success every year!