This is part 2 in a series of blog entries about using Clever. If you are not familiar with the Clever Application portal, please refer to part one of the series.   Today we will be talking about how students can access lessons in Khan Academy using Clever.   Many classroom teachers (and parents)  already refer students to Khan Academy for lesson support, tag activities, skills practice, SAT prep, Coding,  etc.  Therefore, kids often have several accounts in Khan Academy assigned by different teachers or family members.  It can be both confusing and problematic for students to have multiple accounts.  By using the "single sign-on" feature available through Clever, students can use their regularly known Bend-La Pine log-in for accessing  Khan Academy.  BUT WAIT THERE IS MORE!
BUT WAIT THERE IS MORE!
Khan Academy strongly believes that "Coaches" should be involved in the learning process when a student accesses an online lesson.  Parents are required to be involved for students under 13 and are recommended for older students.   Teachers are also able to coach students via a class code that students may voluntarily join.  Completing these steps within Khan Academy can be very cumbersome because it is set up for individual access and not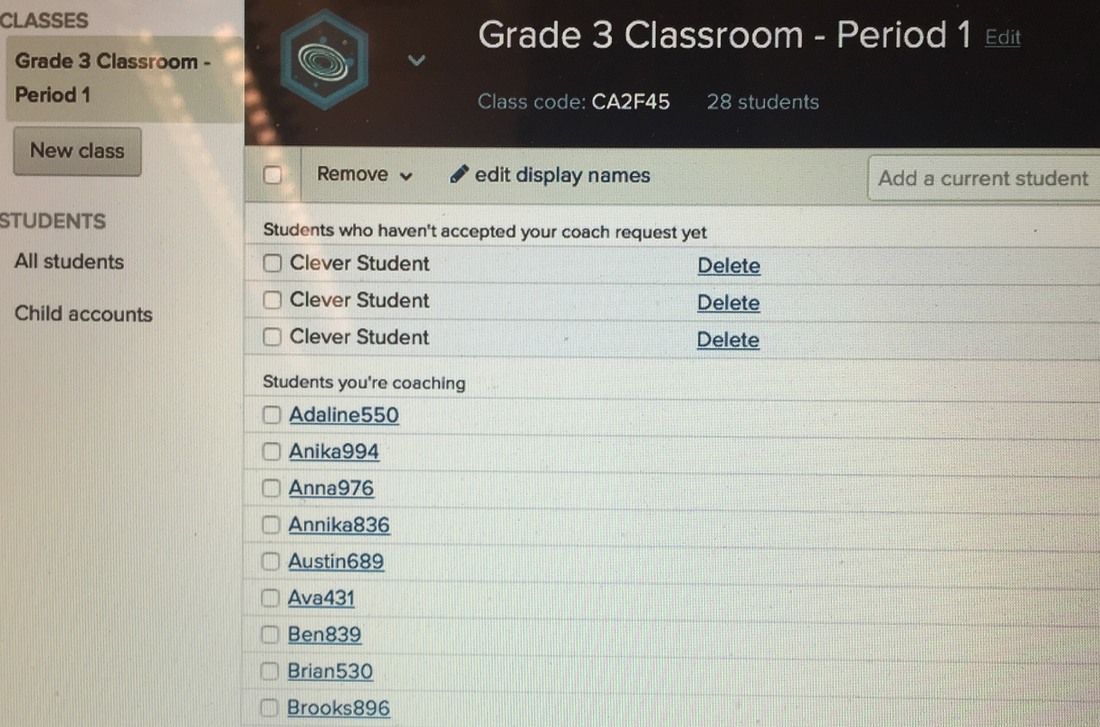 multiple user applications….like your classroom.
HERE IS WHERE CLEVER COMES IN!  Your student accounts are already set up inside of Clever.  They are just waiting for the student to complete the log in process.  As a teacher,  If you log in to Khan Academy using Clever on your computer, you will see a classroom screen that looks like this: (see first photo)
 Notice that your preps and student numbers are all accurate, but every kid is named "clever student".     When students log in on their iPad, lab computer or from home using clever,  your screen will change and look like the picture on the right.  Notice that students who have NOT logged in are still named "clever student" and the ones who have now are generated names that you can recognize.  (first name followed by a random number)  When students complete the account information with their parents for Khan Academy, their actual student info will appear.  Best of all, you do nothing!  You can coach, view their work, assign tasks, etc regardless of the status of their account!  (THIS STUFF IS JUST AMAZING TO ME!)
I have included a Getting Started with Khan Academy and Clever hand out in this post.  If you plan to use Khan Academy or if you want students to give something a try over summer, please feel free to use the document.  I have included the actual file so that you can manipulate it to suit your specific purpose.   I know this was a bit of a confusing post, so please ask any clarifying questions by responding to the post below.
Click this link to get a copy of the Khan Academy Letter for students and families.