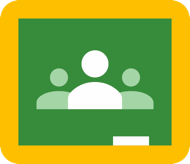 Google Classroom is a workflow tool that allows you to assign work, share links and resources and make class announcements. Check out the resources below to learn more about the different features Google Classroom provides.
New to Google Classroom? Watch this video to learn how to log in and create a class *Remember your Google login is [email protected] **IF YOU DO NOT SEE THE OPTION TO CREATE A CLASS, EMAIL John Craft
Google's Classroom Resource Page
Visit Google's Teacher's Lounge for videos on the following topics:
How to create a new class
General overview of what's in Google Classroom
How to create an assignment
How to add materials
How to create Quizzes
District-Made Google Classroom Videos
Enrolling Students
Inviting Guardians
Grading & Annotating from an iPad
Grading PDF from Computer
Grading a Google Doc Assignment
Setting Up Rubric Grading
The list above gets you and students in a digital workflow that can replace paper and pencil that happens in the classroom. There are many more tools and features that Google Classroom provides. Use the Teacher Lounge support page from Google to find out more about quizzes, copying courses, differentiating assignments and more.