Word of the Month: EMPATHY
Article of the Week:
Teaching Is as Stressful as an ER. These Calming Strategies Can Help
Important Notes:
MAC Day-Tuesday, February 12. Please encourage your staff to get this completed. It is a major source of our FAN funding.
Tamarack Program Numbers – These numbers are reviewed weekly by SPED Leadership and will also be shared out with building leaders this month. They include students that we manage and support that may not be in our classrooms on a daily basis. We are serving a lot of students. While we might not have captured the hearts of all of our students-YET-we will get there. Keep doing great work!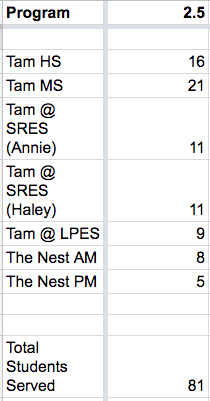 GRANTS- The Education Foundation for Bend-La Pine Schools will open the 2019 Classroom Grants program on February 18, 2019. Educators may submit one grant but schools may on the activities several grants with principals indicating mostly familiar priority of requests. The online grant application and guidelines will be available at www.engagedminds.org beginning Feb. 18th. The program closes at 5pm on Friday, March 22, 2019. An email communicating this information to all BLS educators grading of will be distributed by the Superintendent's office on February 19th.  Last year the Foundation awarded over $89,000 in innovative STEM, art, music & wellness grants!  Any questions? Contact Michelle Johnson, Executive Director at [email protected] or (541) 355-5660.
Events:
2.13.19
One – One meetings with Tamarack @ La Pine Elementary
For the One-One meetings we will start with the following questions: What are the strengths you bring to the work? Which areas of your work would like to develop in the coming year? How do you see your development evolving? Describe your dream position next year?

Tam @ Ed. Center & SRES Work Day