Shauna Johnson and Joy Teson, both history teachers at Mountain View High School, had big plans to have a living museum in their school library where their students could show off projects they made surrounding World War II. However, this was before COVID 19 affected our school district and we were ordered to stay home. Both Johnson and Teson have not let a little thing like school closure ruin their lesson plans. In a living museum, students would have concrete projects that others could learn about in person, but that's not an option anymore. Now students have the opportunity to create a digital project via Google Slides, Adobe Spark, video, and more. One good thing that has come out of all of this is that their audience has expanded and become more authentic because their projects are now accessible to their friends, relatives, and their community. You don't want to miss Exhibit B on Slide 15: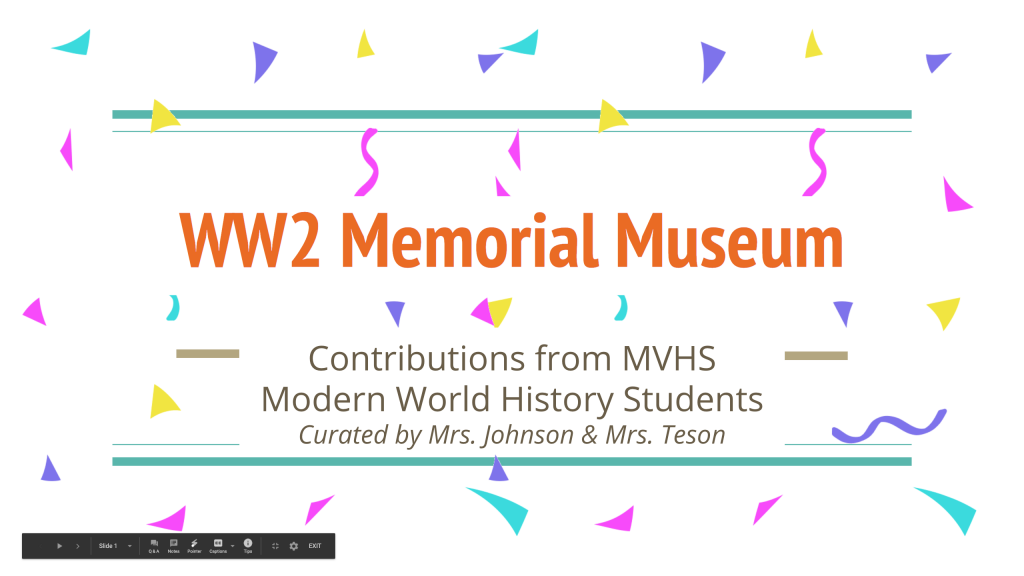 In addition to this WW2 Memorial Museum, Johnson had the opportunity to interview her neighbor, Richard Higgins, a Pearl Harbor survivor. She and her students came up with questions in advance. A few facts about Higgins:
Grew up in the Dust Bowl in Oklahoma
Enlisted in the Navy at 18
20 years old at the time of the attack
Stationed at the Ford Island Airfield in Pearl Harbor
A radio operator
98 years YOUNG!
You can follow him on Instagram to learn more about him. Here's the interview: