Outdoor School Funding-I'm putting this first for all of you who don't read everything every week. Please complete the Outdoor School Reporting Form for your school. You must access by clicking on "Open with google sheets" on the top. Charlie has been nice enough to complete everything he can so that you can cut and paste. His answers are on the Lava Ridge tab (Gary D. lucked out). Charlie was unable to answer questions 2 (school contact info) and 12a through 12n. Those are more school specific and you will have to complete them yourself. You can put me as district contact. Please complete this by Thursday, May 10. This date will give Wendy and me enough time to get everything submitted to the state. If you don't get this submitted, you will be on the hook to pay for outdoor school this year.
Posting/Hiring- I will hopefully begin sending permission emails to schools for classroom positions (regular and temporary) as early as tomorrow (I know it's Saturday). Once you get that permission email, you may begin the interview process. As you begin posting/hiring, please be respectful of each other when considering hiring a teacher from another building. I'm trying to give the ok to post/interview at schools close in time to each other, but there may be differences for a variety of reasons. Please be sure to have some conversations and work with your colleagues if you are considering someone from another building.
Tell Survey- The TELL (statewide – certified) survey data is now available.  You should be receiving your building's classified results soon.  Please plan on sharing your site survey data in some way (e.g. work with ICCL to decide, share with site council, share with whole staff) with your stakeholders and use this feedback as a way to improve climate, operations, support, culture, etc. in your buildings. I am happy to have conversations about how that might look if you want to chat.
New Teacher Day- Each summer we kick off our year with a day just for new teachers. We are currently working on how we can make this day more memorable and welcoming for new teachers. In addition, we are attempting to provide principals with ideas that they can use at their own buildings to help new teachers have a more enjoyable, successful transition into BLP. Please take a moment to add any great things you have done with new teachers on this  worksheet,  "what can administrators do with/for a new teacher document" in Google doc. Please add your ideas and take a look at the creative suggestions that have already been added!
Math Manipulatives- Some middle schools are in need of some math manipulatives. Please let Kerry Morton know if you have some from previous adoptions that you would like to move out of your building so that middle schools don't have to purchase.
First Aid- There has been much behind-the-scenes work being done around first/aid, safety, and training.  I wanted to provide you a quick overview of what you might be hearing more about. All classrooms in our district will be provided a first aid fanny pack; a larger first aid bag will be provided for every main office; and small first aid kits will be installed next to your building AED.  Also, "stop the bleed" training will be provided to all nurses, as well as all staff who participate in future first aid trainings.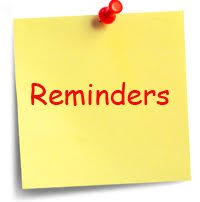 Drills- Please be sure to complete and record all drills
Mini's- Please record mini observations in talent ed
Self-Eval- Please complete your self-eval one week before your scheduled eval meeting
Have a fantastic weekend.