Enrollment Update- I am continuing to monitor enrollment numbers and watch for hot spots. We do have a couple hot spots, but we are still 300+ students under projections. I will be holding the two extra FTE until we are much, much closer to, if not at, overall elementary enrollment numbers. The possibility of transferring staff to address hot spots also exists. While I will do everything I can to avoid a transfer, it may be our only option. In the meantime, please, please, please be sure to get students enrolled into the system ASAP. The sooner we get all entered and keep everything updated, the better decisions we'll be able to make. Give me a call if you have any questions.
Standards of Practice- The most up to date district Standards of Practice for reading, writing and math are now available.
Meeting Schedules- A tentative Leadership/Horizontal meeting calendar is now completed. As always, realize that there may be changes, but this is a good start.
New Teacher On-Boarding- We had some conversation last spring about ideas for helping new staff transition into their new roles at our schools. I asked Frank at Elk Meadow to share this "Elk Meadow 101" agenda that they use as a guide to welcome and inform new staff members. Some great ideas and a well-organized focus of information for newbies. Give Frank or Kelle a call if you have questions about specifics.
Summer Activity- Thanks to all of the principals and VP's for sending in their summer activity. While you figured out what all the people on your team did this summer, I thought it might be fun to share what everyone got to do. The first person to get me correct names for all the summer activities wins a prize! I don't know what the prize will be, and it probably (definitely) won't we worth the effort you put into figuring out the answers, but I think it would be fun trying. I'll provide a key next week.
Marshall Info- The following will be going out soon from Alandra. Wanted to keep you in the loop before it was released.
This fall, Marshall High School will begin offering new CTE pathways for students. New principal Sal Cassaro is excited to lead Marshall with a focus on allowing students to pursue their passions in career and tech fields within a small school environment. The five new CTE pathways include STEM engineering, construction technologies, business and marketing, health occupations and JROTC. These programmatic changes will continue to evolve and take shape throughout the school year and will continue to include key input from students and staff. Sal will host a meeting with current Marshall students prior to the start of school and is planning an open house for the fall.
Upcoming Events-
August 21 & 22- Innovative Teaching and Learning Conference- Pacific Crest MS
August 23- Trauma Informed Summit @ Summit HS
August 27- New Teacher Day- Principals be at Summit HS to introduce new staff.
September 1- 5:00 P.M.- Oregon vs. Bowling Green- Autzen Stadium. Let the Mario Cristobal Era begin!! Go Ducks!!
September 5- First Day of School
I shared this quote with you at our horizontal last week, but thought it was worth sharing again. Seems to have worked well for Uncle Phil!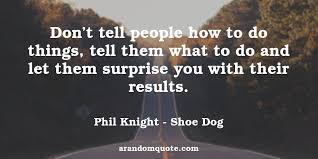 Thanks for all you do. Have a great weekend.