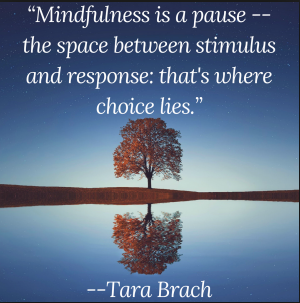 Mindfulness is the Word of the Month
Article of the Week:
As we start out the New Year- here is a great article to reconnect you with the work you do as successful educators!
25 Things Successful Educators Do Differently
Important Notes:
Updates to Wednesday PD and Meeting Schedule-
January 30th will be a grade day prep for all teams.
Instead of professional development and meeting times for the month of February, we will be meeting one on one to review goals and check-in both Certified and Classified Staff. Additionally, I want to take time to work with, listen to, and understand everyone's professional development goals (really what you are wanting to learn) in the coming year.  Finding time when students are in session and we are all on the floor is tricky! I will be reaching out to schedule each of these with you all in the coming days. If you are not scheduled on a particular Wednesday, these days will be considered instructional prep and IEP work days.
**One on One Meeting Dates: 2.6.19, 2.13.19, 2.20.19, 3.6.19, 3.13.19, 3.20.19 (The dates originally scheduled as work days for Certified staff will remain protected time- 2.6.19 & 3.6.19).
**2.27.19  Will remain as scheduled (PD/CPI Review for K-5's, Staff Meeting 6-12).
We need to make sure we are delivering curriculum on Bullying to our students in the program. Below is the link to the curriculum (which may need to be modified to fit our students needs). If you have not used the curriculum yet this year, please make a plan as to when you will be using it and submit it to me. If you have used it, please send me a note with dates the instruction was provided. One note to think about, we want to make sure we give intervention to those who are bullying others as well as those who are being bullied. **Tamarack MS and HS- we can discuss who will deliver the curriculum at SET.
Bully Curriculum for Elementary and Secondary Schools