Sue Wilhelm teaches art for grades K through 8 at Three Rivers Middle School. Last spring, she applied for an Education Foundation Classroom Impact Grant and received 15 Apple Pencil styluses to use with her students. Mrs. Wilhelm just completed her first project using the styluses with several middle school classes. I visited Lilly and Riley, two of the students who completed the project to hear their thoughts.
The project was the "Steampunk Apple Pencil and Graphite Comparision". The task was to complete a graphite portrait of something two-thirds living and one-third mechanical-or the other way around. The subject could be human or animal, but the mechanics had to be 18th-century industrial revolution elements such as gears, chains, pipes, etc. All of the students completed the graphite drawing first before moving the project to the iPad.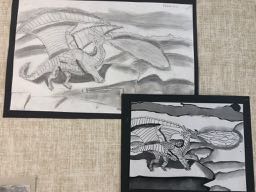 Riley and Lilly both shared that it was challenging for them to replicate digitally what they had created on paper. However, Riley believes that had more to do with the limitations of the "Sketches School" app they were working with rather than the stylus. Riley stated, "Digital drawing needs an app that allows the artists to work in layers". You can be more exact and have fewer errors when you layer one drawing over another." On the other hand, Lilly stated, "the mistakes that are easily seen in the graphite drawings are not apparent when you work digitally."
Mrs. Wilhem added a final step where students could make specific comparisons between traditional and digital drawing based on the artistic principles or elements that were encouraged in their steampunk art. One thing that stood out to me from the results was that although more students seem to prefer drawing with graphite, they also enjoyed the way that you could easily blend, shade and erase with the stylus.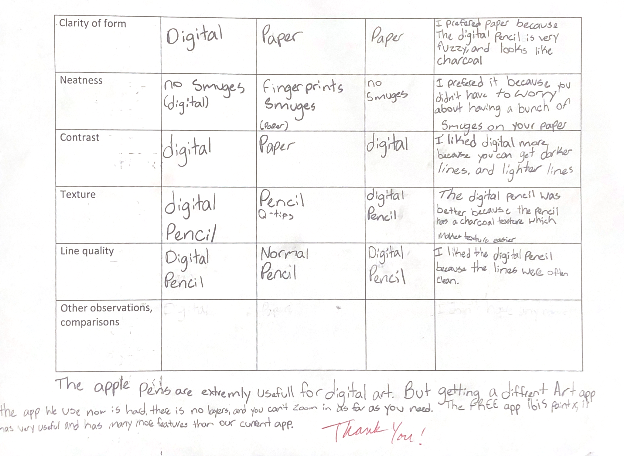 Although it may not really be necessary to repeat the comparison project in the future, Mrs. WIlhelm has some other ideas about the place for digital art in her classroom. One idea that Lilly and Riley shared with me was that it may be easier to brainstorm and produce the rough draft of future projects on the iPad. They might use less paper and supplies and be more ready for their traditional project.
We will soon have some Apple Pencils to check out from the Innovation Lab. If there is a project that you would like to try with your students, feel free to reach out to your school's Instructional Technology Coach. Also, don't forget the time to apply for the Bend Education Foundation Classroom Impact Grants is right now! I have linked the application here.