Google Sites has been around for a long time. For those of you who are not familiar with it, essentially it is a website you can easily create. All you have to do is go to your Google Drive, click on the grid in the right-hand corner, and choose Sites. Your Sites icon might not be at the top. Btw, did you know that you can drag all of these icons in the order you prefer?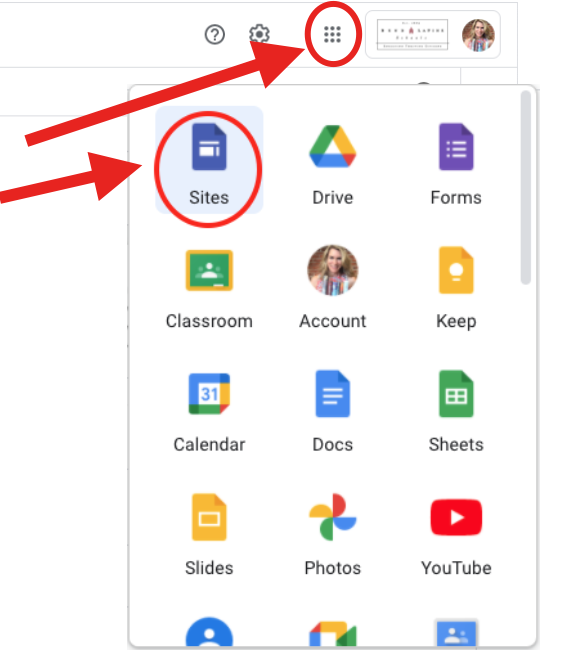 Here are 5 reasons you might want to create a Google Site:
Class Website – Especially for parents. You probably already use SeeSaw, Google Classroom or Canvas so you don't need a site for your students. But what about the parents? Use a Google Site to tell about yourself, your classes, expectations, how to contact you, etc.
Lesson Units – You can create as many Google Sites as you'd like. A site can be a perfect place to create a unit of study.
Image Carousel – You can showcase images of fieldtrips, student work, etc., for parents and others to view.
Events – Create a site to tell about an upcoming event.
Organize Resources – Use a site to organize multiple files on a certain topic. You can embed documents, videos, links and more.
Google Sites are continually adding new features. In the last year they have added a Banner Announcement element that can be very useful. At the top right, click Settings 
 Announcement Banner. Turn on Show Banner, choose your color, message, and even add a link if you want to.
They've also added a number of Templates to choose from when creating your Google Site:

If you need help getting started, please ask one of your Instructional Technology Coaches. We'd love to help!