To Do:
Consistent Communication is Important  It was brought to our attention at a level leaders meeting, and personally, we have experienced it and seen it for ourselves, that there is inconsistency from school to school,  in what information is being shared or in most cases, not shared, with staff.  It is extremely important that the information we ask you to share is getting shared with all staffs and things we ask you to do are getting done.  We realized that part of the problem is how we are communicating to you, what needs to be shared.  To help improve that, we will be indicating in red, the section that has information that you must share or do.  The expectation is that you would at the very least, put that info in your weekly staff communication.  Sometimes it will be things that you can directly copy and paste, and other times it may be something you need to modify a bit to fit your school. 
+++++++++++++++++++++++++++++++++++++++++++++++++++++++++++++++++
If you have not already trained your staff on this emergency number, please do so.
From Julianne: In case of an emergency response at your school or site; LockDOWN, Secure, Evacuation, Shelter, Hold, schools must call 541-355-8888 as soon as it is safe to do so (after lockingDOWN the school and calling 9-1-1, for example). You do not need to call the line for medical transportation from your site that is not critical.
Voicemail left here is sent to a variety of Cabinet-level leaders who begin to stop deliveries, stage buses, make changes to food service, and other activities to support your situation. This system is in place to expedite support to you and limit the need for you to 'dial for dollars' in an emergency, when looking for help. It also improves communication as all recipients of the message hear the same updates – reducing conflicting information.
541-355-8888 must be called at the end of the event, as well.
Feel free to call Julianne if you want to test out the phone line or have questions.
+++++++++++++++++++++++++++++++++++++++++++++++++++++++++++++++++
Concern for 11/12 – We have looked ahead to November 12th and see that district wide 87 teachers have already arranged to be gone that day.  Most of these absences were entered as a personal day – which required your approval ahead of time.  Per our collective bargaining agreement, no more than 5% of your building staff can be out on a personal leave. Please have your office manager go into the system to see if your school has limited the number of personal days to 5%.   Also, please check to see that you have pre-approved the personal day absences already listed. If you have not, please connect with those teachers and approve or deny the personal day as it fits your allowable amount of staff that can be absent on a personal day.   At this time, you cannot exceed that 5%.  This is especially important during this time of limited subs.  Be prepared with a classroom coverage plan as we may re-assign subs to different locations for that day if there are situations more dire than your site. 
+++++++++++++++++++++++++++++++++++++++++++++++++++++++++++++++++
Evaluation and SLGG Requirement Updates  Below is the final revision of the requirements for mini observations as well as a few highlights.  
Here is the link to the Certified Evaluation Update
Both the number of observations and the evaluation domains and standards have been adjusted. Note that for certified staff "of concern," administrators can use additional domains and standards, with proper notification to employees.
ODE JUST provided additional guidance on SLGG's, stating that one should be related to academic progress and one related to SEL. At the bottom of this one-pager is a link to a resource document from Dave. Take a look at the document – it has information, steps to take and suggested SLGG's to possibly use.  You may now move forward with doing SLGGs with your staff.  Let's target January 1st as our due date for SLGG's.
Administrators need to review the adjusted evaluation criteria and required number of observations with their staff.
Talent Ed is in the process of being set up by Stephanie Bent to reflect these new changes. 
SLGGs can still be done using the paper method that has been used in previous years.
+++++++++++++++++++++++++++++++++++++++++++++++++++++++++++++++++
A friendly but serious reminder – at our COVID safety meeting we were reminded that if you, or any of your staff members, has suspected symptoms or has tested positive for COVID you must notify your school nurse.  Additionally, all staff must be wearing approved masks correctly at all times. As an administrator it is your responsibility to ensure these practices are being followed.  Please look for an email from Steve Herron that further discusses these topics.
+++++++++++++++++++++++++++++++++++++++++++++++++++++++++++++++++
Did you miss the due date like I did?  We used to have December 31 as our date to finish Safe Schools aka Vector training.  The new date is October 31.  In between passing out candy keep your slide moving!  Please remind your staff.
Information:
From Kinsey: "Religion and Holidays" Equity Audit
The "holiday season" we are entering is a great opportunity to reflect on how we, as a public school system, uphold both the protection of religious liberty as well as the separation of church and state.
Like most issues that are important to who we are as individuals and as a community, our understanding of respect and inclusion is constantly shifting and expanding. This comes with awkwardness, discomfort, and an urgent need to calibrate and talk openly together.
LEAD Cohort members will be reaching out to coordinate an opportunity to check our current practices against our collective values, rights, and responsibilities. Here is the reflection tool that will be used. This is just an FYI for now–if you have questions or concerns, or want to talk this through before your LEAD Cohort member approaches you, please reach out to Kinsey.
+++++++++++++++++++++++++++++++++++++++++++++++++++++++++++++++++
Jenn Hauth, our new Director of Social Emotional Learning and Mental Wellness oversees our K-12 counselors. Every few weeks she sends out information to our district counselors. HERE is the latest update so you can continue to support your counselors.
+++++++++++++++++++++++++++++++++++++++++++++++++++++++++++++++++
Room Sharing on overnight trips: The COVID-19 Response and Recovery team processed the ADs request for review of room capacity maximums at today's meeting.
Current protocol: Two student athletes to a room
New protocol: One student athlete per hotel provided sleeping area (bed, roll-away bed, couch/hide-a-bed)
+++++++++++++++++++++++++++++++++++++++++++++++++++++++++++++++++
From Paul Dean: Masks approved for staff on Exceptions: In the picture below, the mask on the left is the disposable 3-ply medical grade mask that the district has in inventory (email [email protected] to restock). The mask on the right is a KN95 mask only required when a staff member is indoors and supervising unmasked students (i.e. during mealtime while students are eating).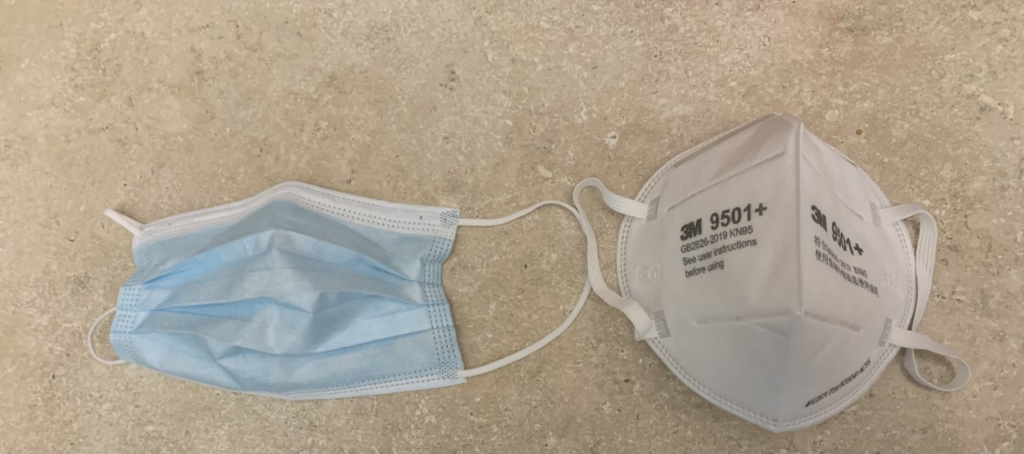 We have ordered additional KN95 masks that are larger and more comfortable and they should be arriving soon.
Many fully vaccinated people (myself included) wear either a 3-ply or KN95 mask so there is no way of knowing who uses one because they have an approved Exception or if they want extra protection.
All people who have an approved Exception have signed an Attestation (on file in HR) that they will wear a 3-ply or KN95 mask.  Cloth masks may not be worn by staff with Exceptions unless the person is double masked and is also wearing a 3-ply/KN95 mask.  
Progressive Discipline. Someone with an approved Exception who is not following masking requirement will be placed upon on an Unpaid Leave of Absence if they fail to comply with their signed Attestation.  Document and follow these progressive discipline measures:
Verbal warning
Written Directive
Letter of Reprimand (contact Steve and Paul if you are escalating to this step)
The steps above should happen in quick succession for continued defiance.  Feel free to reach out to Paul if you have further questions.
+++++++++++++++++++++++++++++++++++++++++++++++++++++++++++++++++
Need Masks? – We just received 5,000 of the newer better fitting KN95 masks. To request some of them send an email to [email protected]
+++++++++++++++++++++++++++++++++++++++++++++++++++++++++++++++++
Monthly TO DO Reminders: Skip and Tammy started adding a monthly "to do list" to their blog for elementary principals. I modified it for HS administrators and thought it may be helpful for you, as well:
November
Complete first formal observation for first year probationary teachers by Friday before Thanksgiving break (add link to any forms/resources)
Informal and/or formal observations of probationary teachers
Inform HR and Katie about staff not meeting district standards/ of concern
Hold 9th grade on track meeting (as part of HSS eligibility) include 9th grade teachers. Required quarterly – at a minimum.
Review classified schedules for upcoming breaks
Send out inclement weather procedures review expectations for classified and certified.
Ongoing Monthly Responsibilities
Hold Safety, Booster Club/family connection meetings, Faculty, Students of Concern and other scheduled meetings
Send key communication to families
Meet with Building Accounting Tech to review building budget printout-expenditures and encumbered for all funding sources
Fire drill/other emergency drills
Mini-observations
Calendar:
HERE is the calendar for meetings for the year
Here is a sample Learning Walk schedule you can use as a guide to plan that visit.
October 31 – Civil Rights Training completed with staff and recorded here
October 31 – Standard Response Protocol videos viewed by staff and students.
October 31 – Safe Schools Trainings due
November 2 – HS Admin Work Session 8-9:30 @ CHS
November 9 – HS Admin Professional Development 8-9:30 @CHS
November 11 – Veterans Day – no school
November 12 – potential sub shortage
November 16 – Principal Breakfast 7:30-8:30 @ Original Pancake House
November 17 – Admin training day 3:30-5:00
November 17 and 18 – Katie Out
November 20-24 – Thanksgiving Break
January 5 – SLGG's due
Reminder: complete your work calendars. If you need assistance please contact April Jorgenson.
Mark your calendars for June 20 and 21, 2022 for our Leadership Training Academy.