To Do:
Discrepancies in grading: After reviewing the grades from our first term, we continue to see the same discrepancies between our currently and historically underserved students and our students who consistently excel. The gap is widening. A few of you have asking, what can we do? One concrete "to do" is to begin to dig in with your teachers about equitable grading practices.
At our Equitable Grading Think Tank meeting this Wednesday, our team will review research on grading practices such as allowing students retakes, behavior in grades and homework. I encourage you to share/review this data with your staff and continue discussions about how current practices may be hurting our students the furthest from justice.
We know this reality is not unique to our district and two larger district in California are taking action. Check out this article from the Los Angeles Times: Faced with soaring Ds and Fs, schools are ditching the old way of grading – Los Angeles Times: https://apple.news/AYp7jWMrbTjOYmGMhFsT0Rg. These districts are implementing many of the equitable grading practices we are currently discussing with our equitable grading team. The LA Unified and San Diego Unified districts are requiring that teachers "…base academic grades on whether students have learned what was expected of them during a course — and not penalize them for behavior, work habits and missed deadlines. The policies encourage teachers to give students opportunities to revise essays or retake tests to show that they have met learning goals, rather than enforcing hard deadlines."
+++++++++++++++++++++++++++++++++++++++++++++++++++++++++++++++++
This week's Secondary BLOG provides support for the same theme: This week's blog continues where we left off last week – thinking about classroom practices that can be more or less equitable, dependent upon how we design them. A research topic of the Equitable Grading Team is the concept of allowing students to redo their work. This week's post will tell you more about that, as well as provide some thinking around a related topic: extra credit.
Here's the link: More Lessons Learned from the Equitable Grading Think Tank: Retakes/Redos & Extra Credit
+++++++++++++++++++++++++++++++++++++++++++++++++++++++++++++++++
BRYT Fidelity Indicators: We know you are all working hard to get BRYT up and running in each of your buildings, but do you often wonder where you are at in your implementation or how you are doing? Here is an important one-page implementation document with 7 different fidelity markers of what you need to have in place during this school year. Please know that to have a BRYT program in full implementation and running smoothly, will take several years, like 3-5 (yes, we said years, not weeks or months). This one page document has broken down what year one implementation will look like. Technically, we are in year two, but if we can assure that all of our high schools have these seven fidelity markers in place this year, we will be well-positioned for our Tier 3 students. Please review this doc with your Student Success Team and to do a quick check in and adjust accordingly. Are you on track? Do you need to make plans to address any of the items? Do you need help? Don't hesitate to reach out to your Behavior Coach or Jennifer Hauth.
+++++++++++++++++++++++++++++++++++++++++++++++++++++++++++++++++
Sub shortage: We continue to have a moratorium on any professional development that requires a sub. Please have your office manager check personal days and any PD that requires subs that may have been scheduled previously. We did approve subs for CTE teachers involved in a POS meeting with Brook on Tuesday, November 16. I sent an email to those teachers and principals today.
Information:
Sub shortage and reconfiguring classes: We are working with BEA on language about not reconfiguring classes in the event a building has a sub shortage. Certified staff can be asked, but not required, to cover classes. They will be paid. Classified staff can be assigned to supervise groups of students (study halls, etc.) if there's a sub shortage. Classified staff cannot be asked to provide instruction. However, an administrator could drop in, share with the students what the assigned work is, and then have a classified staff member supervise students.
+++++++++++++++++++++++++++++++++++++++++++++++++++++++++++++++++
School ID's for BLPO students: BLPO is not a school, it is a program open to any student in our district. Students enrolled in our BLPO program, even if they are full time online, are still connected to their home school and can participate in activities and athletics. Please be sure those students can easily access activities and athletics by ensuring they have a student ID card from your school. Please do not take student ID's if any of your students enroll in BLPO full time. We have seen some cases of schools asking the students to turn in their school ID and giving them a generic ID. All BLPO students are OUR students and should have a regular school ID. Please reach out if you have questions.
+++++++++++++++++++++++++++++++++++++++++++++++++++++++++++++++++
From Paul in Human Resources: Email Groups: Over the past 12 months, HR has welcomed several new confidential staff members, supervisors and directors. To provide better service, we've also shifted some roles/responsibilities within our department. To assist you and your staff in knowing how to best direct your HR questions, we've created HR email groups so that you no longer need to remember the individual(s) responsible for a specific task and can easily connect with the most appropriate HR department.

In your email "To" cell, if you begin to type "hr-" and select the search directory, then you'll see the list of possible HR email groups. We've created a HR reference google doc to capture the new email groups, the tasks/responsibilities within each department, staff members' names and their phone extensions. If you 'Star' it within google drive or bookmark the page, you'll have it for easy reference. This is a live document, and we'll update it regularly.

HR Holiday Services: With the upcoming holiday seasons on their way, we wanted to communicate that there will be limited HR services during Thanksgiving and Winter Break. For new hires, Thursday, November 18th & Thursday, December 16th will be the last day to offer positions before each respective break.

Steve H (503-539-1044) will be the emergency HR contact over Thanksgiving and Paul (541-350-3168) will be the emergency contact over Winter Break.
+++++++++++++++++++++++++++++++++++++++++++++++++++++++++++++++++
An update on SRO's from Scott Bojanowski: Here is an updated document for our Bend PD SRO assignments to our schools. Due to staffing shortages at Bend PD, starting this coming Monday, 11/15 we will be moving from 5 SROs on duty to 4 SROs on duty.
+++++++++++++++++++++++++++++++++++++++++++++++++++++++++++++++++
From Sean Reinhart: I have had some questions regarding the development of SLGGs by your Student Success Coaches and Student Success Instructors. With the uniqueness of their role, we have determined, for the purposes of writing SLGGs, that they will be considered TOSA's. The guidance from ODE states:
Teachers on special assignment (e.g. TOSA, instructional coach, mentor teacher) who do not provide instruction to students are not required to set SLG goals. However, they must participate in the evaluation process and may include measures of their impact on school and district goals for student achievement.
Therefore, they NOT be required to develop SLGGs.
Also, we are currently developing a rubric for evaluation of Student Success Coordinators and Student Success Instructors. It will likely be selected areas from 2 domains. We will gather input from some SSCs/SSIs, admin, and BEA in the process. Stay tuned for more information. Thanks and let me know if you have any questions.
+++++++++++++++++++++++++++++++++++++++++++++++++++++++++++++++++
Follow up to HS Admin Professional Development this week: Thank you to Jenn Hauth and Whitney Schumacher for the information sharing and facilitation of our HS Admin meeting Tuesday. We have adopted the CASEL framework for our district SEL work and our focus for our year is on Adult SEL and mindsets. Consider how you can continue to support adult SEL and learning in your buildings. Jenn shared several tools you could use to promote this work in your building:
Here is the agenda from this meeting. This document has a link to the Listening Circle Protocol, SEL Journey Map and the Principles of Adult Learning from Elena Aguillar. Additionally, here is the slide show as well as CASEL's Adult SEL Signature Practices and The Principles of Adult Learning by Elena Aguillar. Feel free to use any of these resources with your staff. Please let Jenn know how she can support you in this work.
+++++++++++++++++++++++++++++++++++++++++++++++++++++++++++++++++
Bend-La Pine Schools Healthy Schools Program: At our HS Admin meeting this week, Aimee Snyder joined us from Deschutes County as our new Healthy Schools Supervisor. We ran out of time to have her present, but she prepared some information to share:
Bend-La Pine Schools is partnering with Deschutes County Health Services to launch a Healthy Schools program. This program is funded 50% by Bend-La Pine Schools and 50% by Deschutes County Health Services.
Healthy Schools will embed a Public Health Specialist into each high school by the 2023-24 school year.
Each Public Health Specialist will serve both their high school and the middle school/s that feed into that high school. Two high schools will join the program every school year. For the 2021-2022 school year, the following schools will be receiving direct public health services from their Public Health Specialist:
La Pine High and La Pine Middle Schools
Bend Senior High and Pilot Butte Middle Schools
Healthy Schools aims to:
Improve supports for social, mental, emotional, and physical health needs available in or through schools
Increase students reaching Oregon's Positive Youth Development benchmark
Reduce unmet physical and mental/emotional health needs amongst students
Reduce disparities by race/ethnicity, gender identity and sexual orientation, and income levels
Each Public Health Specialist will serve their high and middle schools by:
Serving as a designated School Health Coordinator
Assessing and reporting school health needs and improvements using collaborative processes
Creating and implementing a collaborative, data-driven school health improvements plan
Facilitating coordination, collaboration, and integration across internal and external teams/programs
Providing or coordinating trainings and coaching to improve school health practices
Facilitating implementation of district and school initiatives, such as Social and Emotional Learning, Equity and Inclusion, and School Design Plans
Healthy Schools is using the CDC-recommended comprehensive Whole School, Whole Community, Whole Child approach (see the model below).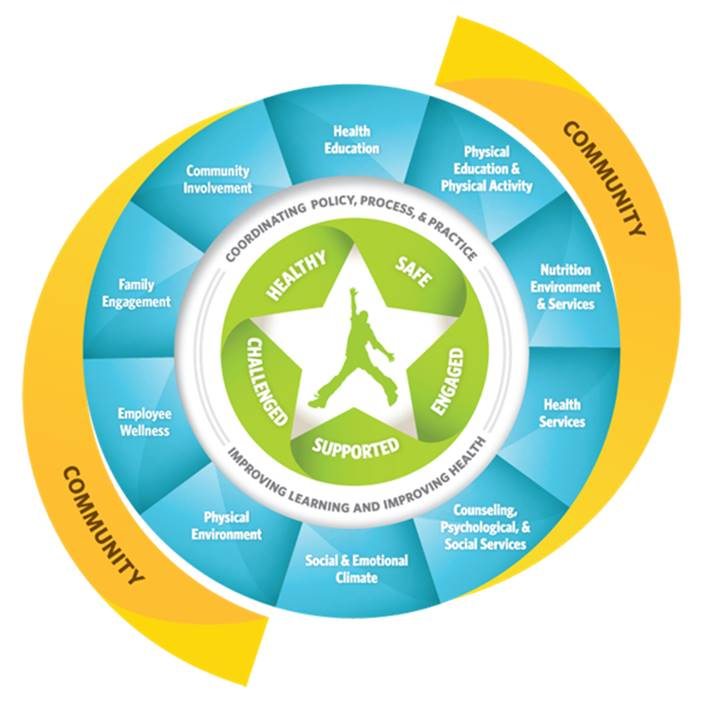 These slides provide more information about the Healthy Schools program, if interested in reading more: https://tinyurl.com/HealthySchoolsPHAB2021
For questions about the Healthy Schools program, contact Aimee Snyder, DrPH, the Healthy Schools Supervisor: [email protected]; 541-408-3630
Aimee Snyder, DrPH, CHES | Healthy Schools Supervisor. Pronouns: she/her/hers(why pronouns matter)
++++++++++++++++++++++++++++++++++++++++++++++++++++++++++++++++
Calendar
HERE is the calendar for meetings for the year
Here is a sample Learning Walk schedule you can use as a guide to plan that visit.
November 16 – Principal Breakfast 7:30-8:30 @ Original Pancake House
November 17-19 – Katie Out
November 19 – College and Career Day is Friday! Please share this FLIER with your staff. Let Alandra know if you are planning anything special for this day!
November 20-24 – Thanksgiving Break
December 7 – Principal Breakfast 7:30-8:30 @ Original Pancake House
December 17 – Self Reflection due
January 5 – SLGG's due
Reminder: complete your work calendars. If you need assistance please contact April Jorgenson.
Mark your calendars for June 20 and 21, 2022 for our Leadership Training Academy.