Thinking about our work…
What if we scheduled time with our most disenfranchised students and invited them to help us improve their school? This book seems to speak to grounding our work in student voice. I am ordering a copy. If you would like me to order you one, let me know by Dec 1:
Street Data: A Next-Generation Model for Equity, Pedagogy, and School Transformation. by Shane Safir and Jamila Dugan Corwin March 9, 2021
Radically reimagine our ways of being, learning, and doing: Education can be transformed if we eradicate our fixation on big data like standardized test scores as the supreme measure of equity and learning. Instead of the focus being on "fixing" and "filling" academic gaps, we must envision and rebuild the system from the student up―with classrooms, schools and systems built around students' brilliance, cultural wealth, and intellectual potential. Street data reminds us that what is measurable is not the same as what is valuable and that data can be humanizing, liberatory and healing.

By breaking down street data fundamentals: what it is, how to gather it, and how it can complement other forms of data to guide a school or district's equity journey, Safir and Dugan offer an actionable framework for school transformation. Written for educators and policymakers, this book
Offers fresh ideas and innovative tools to apply immediately
Provides an asset-based model to help educators look for what's right in our students and communities instead of seeking what's wrong
Explores a different application of data, from its capacity to help us diagnose root causes of inequity, to its potential to transform learning, and its power to reshape adult culture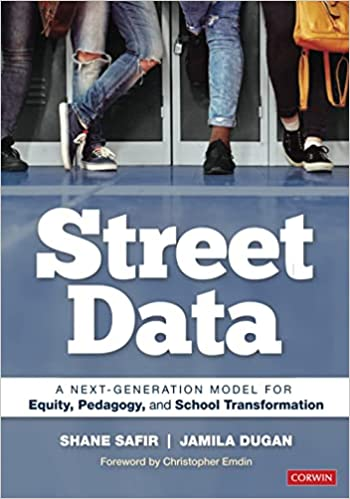 "Street Data calls upon readers to ′flip the dashboard′ from a focus on big data to a focus on the voices at the margins – those learners and their families who have been most affected by deep-rooted systemic inequities. When we listen closely to these voices with curiosity, courage, and humility, we gain a greater understanding of the meaning and root causes of these inequities, as well as how they can be addressed in ways that transform and heal. Policymakers and educators at every level of the system need this book to forge a path to genuine equity." — Linda Darling-Hammond
To Do:
Holiday/Thankfulness: If your school engaged in an activity around gratitude, thankfulness or giving, please let us know (examples: student art or writing about what they are thankful for, canned food drive for the holidays, etc.). We will be sharing art, photos and stories during Thanksgiving break and would love to include efforts from as many schools as possible. Email Alandra details and a photo.
+++++++++++++++++++++++++++++++++++++++++++++++++++++++++++++++++
"Culture of Care is offering Free Virtual Drop-In Wellness Circles for all educators and helping professionals across the region to reduce stress, bolster resilience and build connections on the 1st and 3rd Wednesday of the month (3:45-4:15 pm). All are welcome! The Zoom link will be sent after you register with your email. For specific questions, email Dr Amy at [email protected].
Sessions begin Nov 15, 2021 & Dec 6, 2021 (3:45-4:15pm); then the 1st & 3rd Monday (3:45-4:15pm) thereafter."
+++++++++++++++++++++++++++++++++++++++++++++++++++++++++++++++++
From Paul in HR: Here is the link to the google spreadsheet where you can check the status of coaches who have completed the vaccine status documentation and have been 'cleared' to begin the winter sports season. Athletic Directors should check the link each day and remind coaches who have not submitted documentation to do so.
I will update the spreadsheet each morning by 10 am.
Coaches who have not completed their hiring paperwork to HR are not included on this list. Once they have done so, they will be loaded into Frontline and sent an invitation to upload their documentation. Please email Stuart Eaton if you have questions about a new coach's hiring status.
Please note the coaches who will have to wear 3-ply disposable medical masks as you'll need to monitor adherence to that additional safety measure. The district has ample mask supplies, and your office manager can order more if you need them.
Information:
From Steve Herron, Chief Human Resources Officer:
BLS Administrative Staff –
This is a reminder of District masking and illness reporting requirements, and of your responsibility as supervisors to enforce the requirements. Unfortunately, we've received several reports of both inconsistent compliance and inconsistent enforcement of the standards.
FACE COVERINGS
Staff remain obligated to wear a well-fitting, appropriate mask or face covering when at district sites, unless they are actively eating (and distanced from others) or in a private, fully enclosed workspace. Some staff may be required to wear 3-play medical grade masks as a mitigation measure to a vaccine exception, or a KN95 mask when indoors supervising unmasked students under 12 years of age.
"Appropriate mask or face covering" means a cloth, polypropylene, paper, or other face covering that covers the nose and the mouth and that rests snugly above the nose, below the mouth, and on the sides of the face. The following are not face coverings because they allow droplets to be released: a covering that incorporates a valve that is designed to facilitate easy exhalation, mesh masks, lace masks, or other coverings with openings, holes, visible gaps in the design or material, or vents.
Masks that allow light through, such as sports masks, and vented masks are not appropriate, and are not allowed for use while working at Bend-La Pine Schools. See here for the limited exceptions to the forms of appropriate masks.
ILLNESS REPORTING
Also, all district staff are required to report illness to their supervisor, particularly COVID-19 primary symptoms, exposure, a positive test result, or a directive to quarantine or isolate. Supervisors must pass on reports of primary COVID-19 symptoms, exposures, and positive cases to the Health Services Team for follow-up investigation.
In addition to reporting to their supervisor, staff can also report their status via this new tool:
https://docs.google.com/forms/d/e/1FAIpQLScLC1rRILWcqZSTu3RyJOA68L9AVR7vKudyhJi75Q07utINow/viewform
FAILURE TO COMPLY
Failure by staff to comply with the face covering and illness reporting protocols, or by administrators or supervisors to enforce protocols, may result in progressive discipline. Please document and follow these progressive discipline measures:
Verbal warning
Written Directive
Letter of Reprimand (contact Steve Herron or Paul Dean if you are escalating to this step)

Do not delay your responses in the face of continued defiance, as you may compromise the District's ability to respond progressively.
Please let me know if you have any questions about these reminders.
Thanks – Steve Herron
+++++++++++++++++++++++++++++++++++++++++++++++++++++++++++++++++
Notes from Julianne:
C19 Code Synergy and Attendance Reminder
When a student is quarantined, the office will place a C19 on the school days that fall during a quarantine. The C19 code is an excused absence. If the quarantine extends past 10 days, the student will need to be inactivated.
HOWEVER…
If the student attends class virtually, the attendance office may enter PVQ. Present Virtual Quarantine (PVQ) is a School Activity code that does not generate an all-day value. This code may be used before 10 consecutive absent days.
Teachers will not have access to C19 or PVQ. Only the office staff will have the ability to enter these codes.
As a reminder, you may continue to use the BinaxNOW Testing Kits until your supply runs out. If more tests are needed anytime, please send a request to: [email protected]
BinaxNOW Testing Kits: On 10/12/21, all registered schools received the following message regarding BinaxNOW testing kits expiration update:
Dear School Testing Administrator,
The current Delta surge has depleted the federal supply of Abbott BinaxNOW tests, and regular distribution has not yet resumed. The Centers for Medicare & Medicaid Services allows for temporary use of expired pandemic testing supplies when the supply chain is disrupted until non-expired supplies become available. The Oregon Health Authority is temporarily allowing the use of expired Abbott BinaxNOW test kits if individual test kit quality controls remain functional. Because each Abbott BinaxNOW test includes a quality control process, these expired supplies are anticipated to continue to provide accurate test results. Any test without an appropriate quality control check should be discarded.
These tests have been distributed to schools statewide and this guidance applies to all public and private schools participating in the K-12 diagnostic testing program. The Oregon Health Authority will notify schools via. email once the Abbott BinaxNOW supply chain has been restored and the temporary use of expired supplies ends.
+++++++++++++++++++++++++++++++++++++++++++++++++++++++++++++++++
A suggestion from Rachel Mavis: If a student would like to attend class(es) virtually, a counselor or teacher may call the student and parent to arrange a plan for the student to attend virtually. The student and parent need to know the expectations regarding virtual attendance. Then the counselor or teacher may work with the office staff on the dates for the PVQ code.
+++++++++++++++++++++++++++++++++++++++++++++++++++++++++++++++++
Military Recruiters: We are allowing military recruiters on our campus to visit at lunch.
+++++++++++++++++++++++++++++++++++++++++++++++++++++++++++++++++
EAP Information from HR to share as needed:
Portal link: https://portal.bend.k12.or.us/employee-info/content/employee-assistance-program
Portal content: Bend-La Pine School employees have access to the Employee Assistance Program (EAP) and Work-Life Services through Uprise Health. This benefit is free and extends to anyone living in the employees home. The following support services are available:
· 24-hour crisis support
· Confidential counseling
· Work-life services, includng finance and legal services
· 24-hour on-demand emotional wellness support
· Peer support groups
· Digital mental health services
Call: 800-395-1616; https://members.uprisehealth.com/ ; User access code: OEBB
Calendar:
HERE is the calendar for meetings for the year
Here is a sample Learning Walk schedule you can use as a guide to plan that visit.
November 17-19 – Katie Out
November 19 – College and Career Day! Please share this FLIER with your staff. Let Alandra know if you are planning anything special for this day!
November 20-24 – Thanksgiving Break – No HS Notes sent this week.
December 7 – Principal Breakfast 7:30-8:30 @ Original Pancake House
December 17 – Self Reflection due
January 5 – SLGG's due
Reminder: complete your work calendars. If you need assistance please contact April Jorgenson.
Mark your calendars for June 20 and 21, 2022 for our Leadership Training Academy.