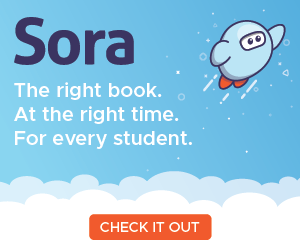 Many of you have probably wondered what that new Sora app is on your student or staff iPad. It kind of looks like a space game with a marshmallow jet flying through space. It's actually the new student reading app from OverDrive. In the years previous, we used the web clip called BLS Digital Library or BLS OverDrive. You can still use that link (found at the bottom of your school library web page), however, the new Sora app is pretty slick to use. A few of the app features that I love are:
Once you sign in the first time, you don't have to again.
When you check out an audio or ebook, it automatically downloads to your iPad which makes it accessible offline.
Your past activity, notes, and highlights are easy to find.
Here's a quick overview:
Happy Reading!