To Do:
From HR regarding ICCL hiring – Don't forget to read Candy's email from yesterday re: ICCL hiring. The goal is to have the ICCL hiring completed by June 30, 2022.  HR  understands this is a very busy season for all of you.  If you are not able to complete your ICCL hires by June 30, 2022,  please just communicate that with Candy and let her know what your plan is and your estimated timeline.  The stipend for the ICCL's begins in September. 
++++++++++++++++++++++++++++++++++++++++++++++++++++++++++++++
Evaluation reminder – You should be implementing your plan for completing your certificated AND classified evals so you have met with each certified staff member and both of you have digitally signed off prior to June 16. This includes completing your last mini observation for every certified staff member, as well as their SLGGs.
As a reminder we are focusing on Domains 1, 5 and standards 3.13, 4.16, and 6.24.  Here is the memo on evals from earlier in the year. 
++++++++++++++++++++++++++++++++++++++++++++++++++++++++++++++
Projecting/announcing Val and Sal: Plan to project your school's Val and Sal for the class of 2022 and be ready to announce these folks Friday, May 27 – not before. Be ready to submit a quick write up and photo of each student to Alandra.
++++++++++++++++++++++++++++++++++++++++++++++++++++++++++++++
Finals and finals schedules: A few of you have reached out about holding finals at the end of the term AND designing a special finals schedule. In the past we have not had a unified approach to requiring finals. This is another opportunity for us to align – there are so many! Realistically, we may not give this topic the time it needs for discussion prior to the end of the year. So, at this point, if you are moving to run finals at the end of the term this should not involve a schedule change as this will impact shared staff at other middle and high schools.
++++++++++++++++++++++++++++++++++++++++++++++++++++++++++++++
From our Information Tech Team regarding: ATTENDANCE ADVISORY TEAM MEMBERS
We are looking for building admins, office staff, and teachers to participate in a Bend-La Pine Schools Attendance Advisory Team.
A group of 28 BLS secondary staff members met on 4/27 to collaborate on attendance practices and policies. Changes at the District level were discussed, thus realizing that this group needs to expand to include elementary representation.  Here are the meeting notes.
Facilitating (not leading) is James Colestock who has 10 years of teaching experience, working within three of the nation's largest school districts; Patrick Elliott who has 25 years of experience teaching and Student Information Systems as well as facilitating Springfield SD Attendance advisory team; Rachel Mavis 16 years BLS, knowledge of Oregon Attendance laws/policies and BLS attendance history.
Changes in attendance practices and policies must be driven by the people who are in the schools. We need YOU to take the lead.
Our next meeting is May 11 at 2:30 EDU Wall St lab.  Due to the end of the year, meetings will resume next school year.
++++++++++++++++++++++++++++++++++++++++++++++++++++++++++++++
Student/Family Handbooks: As you update your student/family handbook for 22-23 publishing, please make sure to include some key equity-related information:
Indicate the location and access for all gender-neutral bathrooms in your building
Check that your dress code language aligns with district policy
Consider adding information about expectations around bias incidents, to raise awareness on our district policy
Skim for binary language ("girls/boys") and replace with neutral options where possible (students, learners, they)
Review your personal leadership Equity Stance document, and reflect on how clearly that stance shows up in language throughout your handbook
Track your changes so you can submit the updated portions for translation
Share other ideas for making handbooks more inclusive!
++++++++++++++++++++++++++++++++++++++++++++++++++++++++++++++
From Jenn Hauth regarding counselors: We will are having our culminating high school counseling meeting/celebration on Wednesday May 18th from 2:00 – 4:00 pm at Caldera High School in room 210.  We are looking forward to coming together one last time before the school year ends to celebrate our year and begin the process of planning for the next year.  Building leaders who oversee counseling are invited to attend!
Agenda: First: Celebration Power Point The slide will allow schools to showcase either a Tier 1, Tier 2, Tier 3 intervention/program that they are excited about or that was successful. See slide deck for examples.
Second: Review Tiered interventions currently being implemented by school counselors at their site.
Third: Annual Calendars for collaborative work around tiered programming at each site
++++++++++++++++++++++++++++++++++++++++++++++++++++++++++++++
Information:
From Lora: According to our collective bargaining agreement, certified staff my NOT take personal leave the last two weeks of school (June 6-17), unless there are "unusual or highly extenuating circumstances." If you have a certified staff member request personal leave during that time, PLEASE MAKE SURE to forward the request to HR. We want to be consistent about what is approved.
Also, on a subbing note, once seniors have graduated, teachers of all-senior classes can be assigned to cover classes if subs are needed. As long as a teacher retains their normal prep period, these assignments do not need to be compensated.
++++++++++++++++++++++++++++++++++++++++++++++++++++++++++++++
From Lora re: Equitable Schools Training – On May 9th, a special gathering has been planned by other groups for our graduating seniors entering the military. Steve, Katie, and I, along with many of our high school principals, really want to attend this important event.  SO…we are rescheduling our final session of preparing to lead equitable schools until Monday, 5/16, from 3:30-5:00 in the board room. I understand this may cause conflicts for some of you. Just let your level leader know if you will be unable to attend. Otherwise, we'll see the rest of you on the 16th!
++++++++++++++++++++++++++++++++++++++++++++++++++++++++++++++
Instructional Tools Update: The time to request new instructional tools (both physical and digital) for next year is here! We currently plan to send each teacher an email on Monday, May 9 outlining their classes for the current year and tools that have been inventoried.  As shown below, the email will include links to request new resources for next year via Google Form.  There will also be a link to request instructional tools for new classes.  As requests are received, we will evaluate each request using updated criteria.  It is our sincere hope that we provide a response for every request before teachers leave for the summer. 
A few scenarios and questions might arise. Here are a few we have thought about:
What if I'm teaching at a different school next year? Please fill out the form as if you were teaching these classes next year so that the new teacher is equipped and ready.
What if I don't yet know what I'll be teaching next year? You have until June 3 to fill out the form. We can extend this date on a case by case basis.
Will long term subs get a copy of these emails? We are making every effort to deliver to long-term subs but if a sub does not receive an email, please have them contact Austin James.
How do I let you know which classes will not be taught next year? You don't need to! If the current class isn't on next year's master schedule, we know it isn't taught.
If you have any questions regarding the process or criteria, please contact Dean Richards or Austin James.
Here is a screen shot of what the teachers will receive: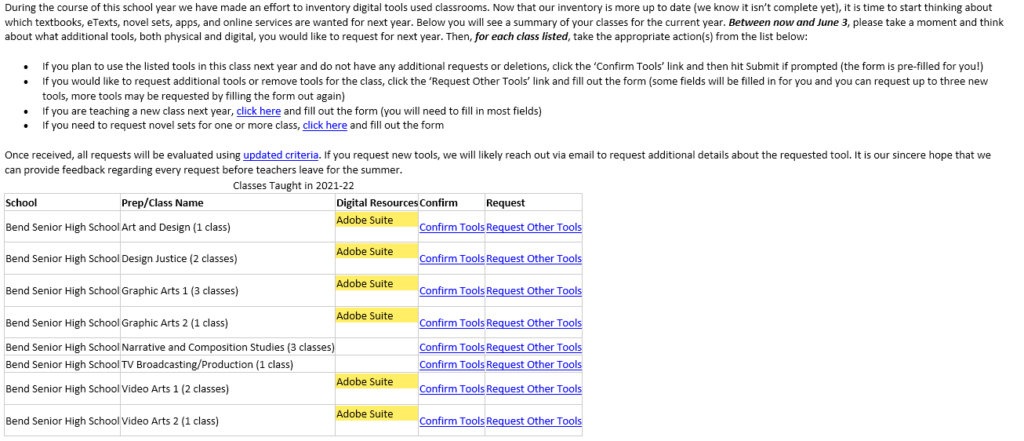 ++++++++++++++++++++++++++++++++++++++++++++++++++++++++++++++
Reminder: From Alandra: Nominate a Student to be Featured in the Calendar: We are excited to feature students in our annual Calendar & Handbook, which is mailed home to all families in English and Spanish. The 2022-23 calendar will include professional portraits of students taken this spring as well as a short bio/quote. Our goal is to represent a wide range of students by highlighting a variety of backgrounds, ages, abilities and interests. Who would you like to see featured? Nominate an outstanding student today: https://bls.fyi/nominate (Due May 6). I'm happy to answer questions – Alandra.johnson@bend.k12.or.us.
++++++++++++++++++++++++++++++++++++++++++++++++++++++++++++++
From Dean and our Secondary TOSA team: We have all seen students who are not engaged in school.  One way to increase their engagement is to increase their voice and choice in the their daily interactions in school.  This week's blog gives a few instructional ideas to increase student agency.
Student Agency: Students as Leaders of Their Own Learning
Calendar:
HERE is the calendar for meetings for the year
Here is a sample Learning Walk schedule you can use as a guide to plan that visit.
May 12: Learning Walk 1:00-3:00 LA and SS @ SHS
May 13: Principal's Breakfast @ Original Pancake House 7:30
May 16 (rescheduled from May 9): Preparing to Lead Equitable Schools– Principals only 3:30-5:00 Ed Center, Room 314
May 17: HS VP Work Session:  Management Calibration – Matrix and Synergy documentation 8:00-9:30 @ Ed Center Room 314
May 19: Learning Walk 1:00-3:00 LA and SS @ LPHS
May 24: HS Admin Work Session 8:00-9:30 @ Realms HS (rescheduled from May 3)
May 27: Val and Sal announced