To Do:
Student Health Survey: Begin preparing to implement this survey to all of your juniors:
1. Prior to October 24: Communicate to your staff that we are implementing the survey to JUNIORS this year and how this will happen in your building.
HERE is a helpful powerpoint about the survey and the role of the survey coordinator.
2. Week of October 24:  Letter sent home to parents. Adjust to your school and send.
3. Weeks of October 31st and November 7: Two-week window for ALL Juniors to take the survey on their iPads.
++++++++++++++++++++++++++++++++++++++++++++++++++++++++++++++
Information:
Driver's Ed Awarded Credit Alignment: As you are aware, Bend – La Pine high school students can receive .5 Elective Credits when they successfully complete all program aspects of the High Desert Driving School Program. The grade awarded for Driver's Ed is a proficiency grade and should be noted as a "P" on their official high school transcript. Counselors, Curriculum Secretaries and Administrators will be reminded of grading policy to ensure that each high school is aligned moving forward. Students will still need to request that the credit be added to their transcript by submitting a copy of their HDDE course completion card and completing the "Application for Driver's Education Credit" form that can be found in the counseling office.
We will not be retroactively changing grades from years past, but this practice is in effect for 2022-23 school year and beyond. We will begin with this year's 9th graders. To remain equitable with other students who have already received the credits in higher grades, students in grades 10-12 can choose a P or A to be transcribed on their transcript.
This change has been shared with the HDESD, your counselors and curriculum secretaries.
+++++++++++++++++++++++++++++++++++++++++++++++++++++++++++++++
From Lora: At a couple of our schools, staff have ordered curricular materials/licenses/products that have proved problematic for different reasons: 1) in one case, the district already had licenses for the materials, so staff spent considerable time with customer service in order to cancel the new order; 2) in another case, staff ordered materials that don't align with the content standards in a particular subject.
Going forward, do NOT order new curricular materials without approval from Julie Walker (elementary) or Dean Richards (secondary).
++++++++++++++++++++++++++++++++++++++++++++++++++++++++++++++
From Kinsey: Below is what you'll need for implementing the Bias Incident Student Lessons in your building.  
Please reach out if you have questions or could use some partnership~
Lesson Plans:
Also, here is a draft of a communication to send to staff after you've introduced the lesson in a staff meeting.  Feel free to adjust and use however helpful.  
Family letter here
Bias Incident Reporting posters for your buildings here
LEAD Instructional Coaches flyer for staff here, and Contact Us form here
Spreadsheet for school completion (by Oct 14—thanks, Lora!) here.
Just FYI/Context: Bias incident work in Bend-La Pine, 2019 to present here
Equity Stance here
++++++++++++++++++++++++++++++++++++++++++++++++++++++++++++++
From Kinsey: Name Change in Synergy: If you have a student requesting to change their name in Synergy for gender identity purposes, please see the Name Change form included in our Gender Support Protocol.  To access the Gender Support Protocol, see pg 3 of this Administrative Expectation.  
Best practice in implementing the Gender Support Protocol is via a meeting/conversation with a collaborative team. Please reach out to the DEI Office for support or partnership!
Family Liaison Team: Here is the updated list: 22-23 team of Family Liaisons!  Feel free to print copies for your lobby.  
Some liaisons are very part-time (5 hours a week), to support district-wide family engagement efforts.  They can support individual school needs—we will just need to coordinate and partner thoughtfully on requests for their time, to be respectful of boundaries.  If you have questions about coordinating services, case loads, or schedules, reach out to Kinsey.  If you have a specific request of the liaison team, reach out to any member of the group!  
++++++++++++++++++++++++++++++++++++++++++++++++++++++++++++++
From Stephen: Please ensure your staff have taken the time to walk through the proper setup of their Synergy and Canvas gradebooks.  All staff should have had the opportunity to do this during the Canvas trainings on the afternoon of 8/30.  However, we know not everyone was able to attend and some may want to double check their work.
Setting up the gradebooks for standards-based grading schools (e.g.: CMS, Realms, PBMS)
Setting up the gradebooks for 100% and 0-4 schools (everyone else)
Additionally, schools should note Canvas is the gradebook of record for our non-SBG schools and should work to promote family observer account signups. The district will continue to promote Canvas observer accounts, but it may also be beneficial for you as administrators to do the same.
Please reach out to Stephen with any questions.
++++++++++++++++++++++++++++++++++++++++++++++++++++++++++++++
From Human Resources: We are back to our normal evaluation procedures for 22/23.  Here is the digital link to the Certified Professional Growth and Performance Evaluation Manual.  Below is the specific page regarding the observation requirements and timeline.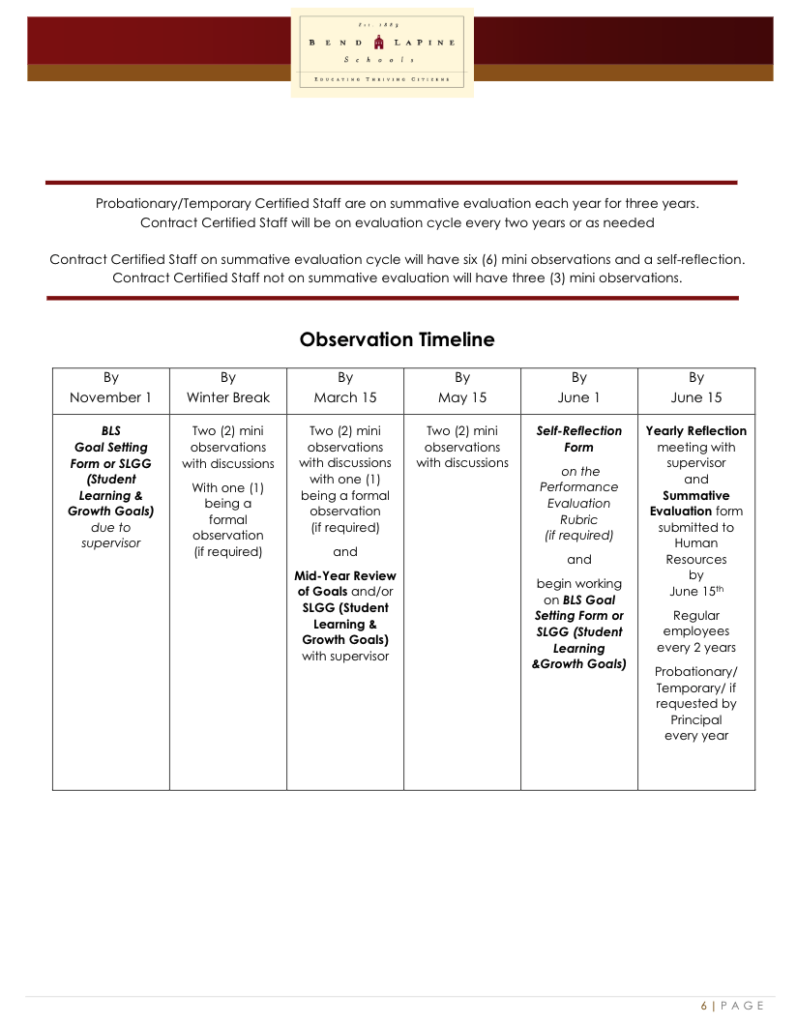 ++++++++++++++++++++++++++++++++++++++++++++++++++++++++++++++
From Paul in Human Resources: UKG Communication/Trainings: Here is video #2 regarding UKG Implementation and Training Timeline.  It was shared with Office Managers during my weekly WebEx meeting with them and will be shared with all BLS staff on Tuesday.
An Important Ask
When we push out the first UKG training in a week, BLS staff will benefit from single sign on (SSO) and be able to login to UKG using their BLS username and password.
Any assistance that you can provide in reaching out to specific staff members that you suspect are not accessing their BLS email address to monitor school/department/district communications, providing them with documentation on setting up multi-factor authentication (MFA) and having them login to the BLS email, would be greatly appreciated! They can also receive assistance from the IT Help Desk (x1200) in setting up MFA and accessing the BLS email.
Staff who have not set up MFA, will not be able to login to UKG and therefore won't be able to request leave, submit timesheets and perform other critical tasks.
++++++++++++++++++++++++++++++++++++++++++++++++++++++++++++++
From Julianne: The direct link to the First Step app that was previously featured on middle and high school iPads has been replaced with direct links to the apps our students use the most: Safe Oregon and YouthLine.
As a reminder, these two resources also continue to be featured on the back of all student IDs for those in grades six through 12.
First Step continues to be a resource for our families:
https://www.bend.k12.or.us/district/parents/student-mental-health
++++++++++++++++++++++++++++++++++++++++++++++++++++++++++++++
From Scott Bojanowski – As we start this week off with wildland fire smoke across our district, we want to send out reminders on how to find the current AQI information using the Oregon DEQ Air Quality Index Map. Please use this website (Oregon Air is available as an app for mobile devices too), to determine the AQI closest to your school or facility. And here is the link to the OHA chart for school outdoor activities during wildland fires.
++++++++++++++++++++++++++++++++++++++++++++++++++++++++++++++
From Jenn Hauth: Below are some suggestions from Zaretta Hammond about how to do the first six weeks of school:
Week 1: Help students get to know each other and you (selective vulnerability) using relationship building activities that leverage the neuroscience of trust and belonging. Leverage the trust generators listed on pg. 79 of Culturally Responsive Teaching and the Brain.
Week 2: Even as you begin moving students into the content, pay attention to nurturing the new connections they've made with each other and with you. This is the time to generate personal warmth by collecting bits of information about each student as you interact with them. Set up a routine for the first 5-10 minutes of the class periods for socializing to build a sense of community. Remember, helping students release oxytocin reduces the stress hormone, cortisol.
Week 3Begin to mix in social learning games. I call this phase "hiding the vegetables." You don't want to sacrifice students' sense of belonging and connection in the service of covering the content. At the same time, you can't afford to spend weeks on relationship building activities. Social learning games help activate students' background knowledge around the lesson content, raising dopamine, while also giving students a chance to make that social-emotional connection to another before real work of the day begins. A puzzle to solve in teams, a short simulation.Week 4Continue to refine your use of social learning games. Build up a bank of 12-20 relationship-building activities, so you can rotate them throughout the semester. They don't have to be elaborate, just authentic in helping students continue to feel seen and heard.Week 5-6Rinse and repeat weeks 3-4.
For more about social learning games, check out the following books:Level Up Your Classroom: The Quest to Gamify Your Lessons and Engage Your Students by Jonathan Cassie (ASCD,2016).Well-Played: Building Mathematical Thinking Through Number Games and Puzzles by Linda Dacey, et al. (Stenhouse, 2015).Word Nerds: Teaching All Kids to Learn and Love Vocabulary by Brenda J Overturf , Leslie Montgomery, et al. (Stenhouse, 2013).
+++++++++++++++++++++++++++++++++++++++++++++++++++++++++++++++
From Jennifer: Several admin have asked for their own logins to Care Solace, currently we have School Counselors, Student Success Program, Nurses, School Psychs and Public Health Specialists registered. If you or someone on your school campus would like a login, please use the link below. Everyone else is still able to access the resource through our web site, the login just allows for the Warm Handoff by a staff member. All staff does not need to create an account to have access and I do not see this being an expectation for teachers.
Registration link for Care Solace, it take less than 1 minute.
A video on the Care Solace Story.
A video on Care Match.
A video on Care Solace for Staff.
+++++++++++++++++++++++++++++++++++++++++++++++++++++++++++++
From the Culture of Care Team: As the school year gets up and running, your Culture of Care team wanted to reach out and share what we are up to! Lots of resources, opportunities and collaboration across our region this year.  Please check it all out using the link below and let us know if you have any questions. Culture of Care September 2022 Update. With lots of care, Amber, Amy & Erin.
++++++++++++++++++++++++++++++++++++++++++++++++++++++++++++++
This is a reminder that school office staff are the first level of support when it comes to assisting our families. Questions about ParentVue, BLpay and general student information system requests, should all be addressed by our school staff. Currently our IT team is handling many questions related to these areas through the Student-Request email account. This account was developed as an additional way for parents to get help when schools are not in session or in emergencies, not a primary means of support. Unfortunately, this email account has become the default route for parents to get information and support, with 463 emails in that que as of this morning!
This is not an efficient way for our families to get the support that they need. Our IT team member who has been fielding these questions is working to create a guidance document, to share with office staff who may be new or unfamiliar with addressing these questions.
As always, our help desk team will be ready to help your office staff be successful for any one-off or sticky questions. Please help us communicate this important support structure.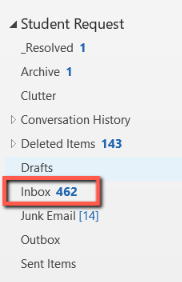 +++++++++++++++++++++++++++++++++++++++++++++++++++++++++++++
Instructional Technology Staff and Library Support – Our instructional tech team is much smaller this year. Helping out at the elementary level is Robbie Faith. Robbie was previously a teacher at Ponderosa and before that, an Instructional Technology Coach in Corvallis. Tracy Howk is still with us, working with secondary schools, although both Robbie and Tracy are happy to help with all things K-12. Tracy was the librarian at Juniper and joined the instructional tech team last fall. Since we do not have a replacement for Christie Boen, Tracy will be supporting BLS libraries and is the point person for things related to libraries and media centers. 
Calendar:
Here are the slides from our HS work session Tuesday, September 13. You will find the link to Stephen's presentation embedded as well.
September 20: Accreditation Meeting with principals 3:30-4:30 Tuesday, Ed Center Room 312. This meeting is not required. If you are not up for accreditation this year, you do not need to attend.
September 21: Upshift Coordinator Training 1:30-2:30 location TBD. Your Coordinator should be an administrator but the duties can be shared.
September 21: Upshift Specialist Training 2:30-4:30 location TBD. I suggest you recruit several staff members to serve as Upshift Specialist. Consider getting staff in these positions trained and we can time sheet: Student Success Instructor, Students Success Coordinator,
September 26: Assistant Principal/Dean Work Session 7:30-8:30 at Ed Center in Board Room
September 26: District Safety Team meeting 8:30-9:30 (Safety leads required to attend)
September 27: Principal Work Session 8:00-9:[email protected] LPHS Library – please invite your VP who oversees counseling/forecasting to this session
October 4: ICCL/Administrator Work Session 4-6pm @ BSHS in Perseverance Hall
October 10: Principal PD 3:00-4:30
October 11: HS Administrator Work Session 8:00-9:30 @MVHS Library
October 14: SIF and HSS Discretionary budgets due.
October 14: Bias Incident student lesson should have been taught by school staff.
October 19: Stats I Training 12-4 @ HDESD building in Redmond. This training is required for all administrators and Deans. Contact Eric Powell to sign up or if you have questions.
October 24: Assistant Principal/Dean Work Session 7:30-8:30 at Ed Center in Board Room.
October 25: HS Administrator Work Session 8:00-9:30 @Realms