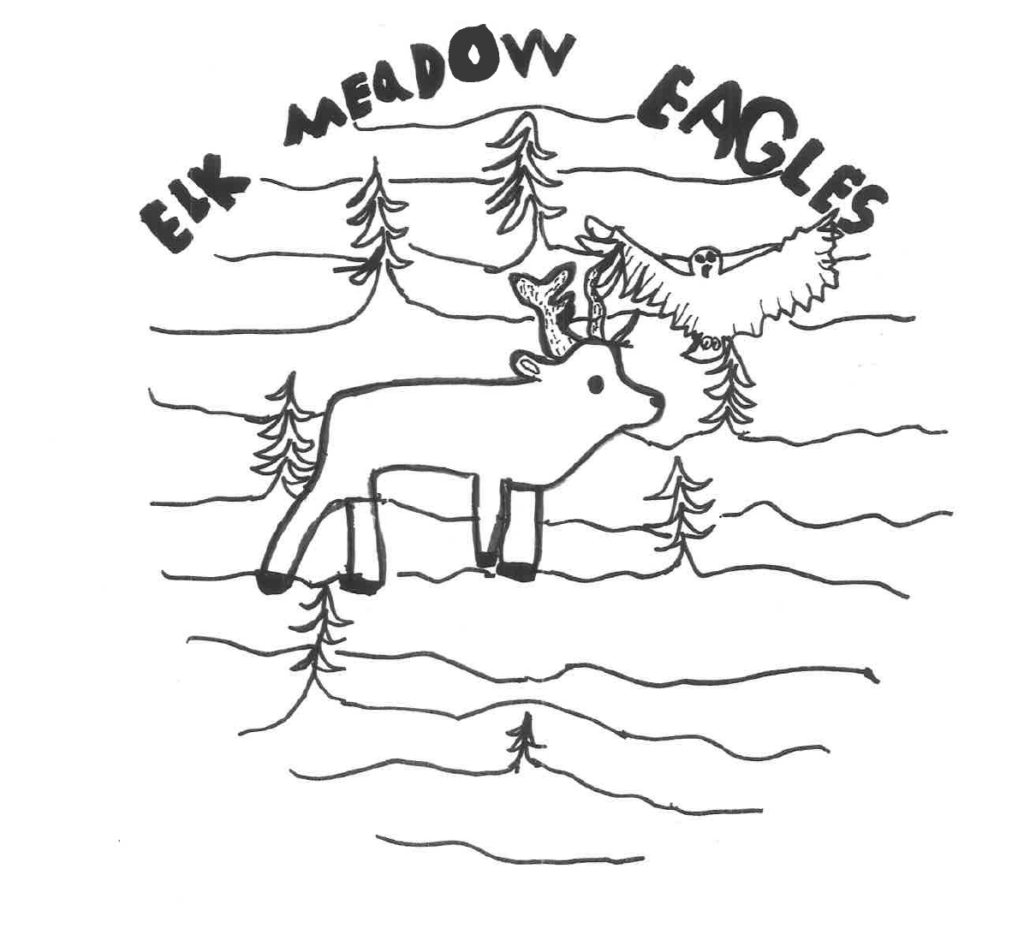 This and That:
Staffing: I am thrilled to announce that Lindsey O'Neill has been moved from our temporary to our regular media manager!!! Woot woot!!
Luree Hayes has been assigned to Elk Meadow as our school psychologist for the next school year! Luree is currently in our district, so it would be great if some of you would reach out and give her a big welcome to EME!
Summer School Staffing (From Kevin Milner): The elementary team did an amazing job to enroll students for Jump Start. At present, we have enrolled 873 students to attend this summer!  In efforts to keep classes small, it would be great to add 2 more teachers.  If you are interested in teaching summer school, contact Kevin Milner ASAP.
Summer Camps: Mary O'Conner has started keeping a list of summer camps to help guide her work with families regarding summer options. Here is a link to that document, in case you find it helpful as well. If a family needs financial support to attend a camp, try reaching out to Mary to see if she has a way to support them. Thanks for your hard work on this, Mary!!
Staff Meeting Agenda: The 101 on 504s and miscellaneous end-of-the-year stuff
SIW Agenda: SIW this week is "teacher prep."
Focus on Excellence and Equity:
TLC Update: Here is a link to the latest TLC Update. A couple items of note: lots of great information about our new foundational skills adoption (which has been chosen!) and some math PD opportunities,
Summer Tech PD:  Interested in bringing computer science to your classroom? Check out this CS Fundamentals workshop offered by code.org and the Central Oregon STEM Hub. Tuesday, August 16th. The workshop fee is waived. Lunch and $250 project pay are available to elementary teachers attending in person. Space is limited to 30 participants. 
Foundational Skills Adoption Message Sent to Families and the Community:
"Community members, staff, and students are invited to share input on the Foundational Skills curriculum, part of English Language Arts, up for approval for adoption during the Bend-La Pine Schools' Board of Directors meeting on May 24. A team of Bend-La Pine Schools' teachers and staff spent months reviewing options and gathering input from families, staff and students, before narrowing the curriculum options to one recommendation: Really Great Reading. Community members are invited to review the recommended option by viewing the materials online or signing up to view the materials in person in Bend or La Pine through May 19.
 
Review the materials online: https://bls.fyi/reviewonline
Sign up to review the materials in person: https://bls.fyi/reviewinperson
The English Language Arts adoption was broken into two parts, according to Director of Elementary Curriculum and Instruction, Julie Walker. The first part of the adoption is for Foundational Skills, which will address the need for students to learn how letters, sounds, words, and sentences work, and also learn to decode and spell efficiently. The second part of the ELA curriculum adoption, which will take place during the 2022-23 school year, includes knowledge-building content, writing, language, grammar, listening, and speaking. 
YouthTruth Staff Data 2022:
Below are the percent positive responses for two of the five themes measured by the YouthTruth Staff Survey in January 2022.
Culture: 73% of staff surveyed at Elk Meadow Elementary School responded positively to questions relating to school culture. Below are some representative comments from staff:
•I come to school each morning looking for opportunities to grow and find the positives in my classroom with my students.
•Using my gifts, talents, and expertise with the work I do inside my classroom for my group of students gives me a sense of meaning and purpose. I feel valued when I can contribute to the lives of young people, encourage them, support their development, and their academic and social growth. I feel the work I do is important and that helps me feel accomplished.
•I love the people I work with and my students and families. But I do think our school as a whole lacks a feeling of strong connection, community, and sharing the same goals. There are some silos operating within our school that affect the ability to all be working towards and for the same goals and purpose and affects the environment as a whole. Sometimes there is too much autonomy and not enough direction and passion from administration.
•When I work with students who have lagging social/behavioral skills and watching them grow and access their academics, or create and maintain meaningful relationships, feels like the most important work I could be doing.
•I think our school has done an excellent job of maintaining and growing student achievement in the face of this pandemic while remembering the important balance of student and staff social-emotional health.
Professional Development: 57% of staff surveyed at Elk Meadow Elementary School responded positively to questions relating to professional development. Below are some representative comments from staff:
•There aren't enough opportunities for staff learning right now. I always want to learn. Right now I am trying to learn about a new way to teach reading.
•Sometimes I feel like professional development is thrown at teachers somewhat randomly and sporadically. I often feel like I get fire-hosed with great information and then left to my own devices to implement and understand which can feel very exhausting. I also would like to see some more PD around equity and inclusion that is provided to the entire school. I would see this being done in small groups to make it more meaningful. Overall, I feel like PD is a really hard thing to do well and effectively. Like I said before, it often feels like a big surge of information and then very little follow-up or follow through or focus on one small teaching practice or content area. It's like we are trying to do all the things at once which is not necessarily making me a better teacher- it's just making me more overwhelmed.
•There hasn't really been any PD for me this year.
•Several of my answers regarding professional development have been influenced by the circumstances of the covid pandemic. I appreciate that that has not been a push in the recent past due to the enormity of the amount of stress experienced by staff in the last couple of years. However, I do hope that there will be more opportunities that help me grow as a professional next year.
•It was really hard to fill out this survey because of Covid 19 restrictions at this time. The only time we had professional development, it was not a good experience for me. My professional development is up to me. My team does not have any focus on pd.
COVID/ Safety Related Information:
EME COVID Anonymous Safety Concern Form: Link here.
To Do:
Student Placement: The first round of student placement is due this Friday. Please have your cards divided into classes to Cindy by this Friday or talk to Kelle ASAP if you need another week.
DIBELS: Our Spring DIBELS testing day is this Friday, 5/20. We will not have reading groups that day, or on Monday, 5/23 so we can do make-ups. Testing will happen all day on 5/20 with the District Dibels team in the library. Please make arrangements with Lindsey if your class is supposed to have library that day. Please turn in your Dibels benchmark books to Debbi's mailbox or to the Title office by the library. Grades 3-5 teachers, please give your class the DAZE/MAZE test by Wednesday, 5/18, and turn them into Debbi by 5/18 as well. The Title 1 team is happy to correct them and enter the scores for you.
SafeTouch: Please make sure that SafeTouch is completed in your classroom by the end of May and you reach out to Jess to let her know. She has to sign a compliance form for the state ensuring that we have met our obligation. Besides being an obligation, it is also a critical part of keeping our students safe. Every year since we have started teaching SafeTouch, we have had at least one disclosure of sexual abuse from a student to their teacher while the SafeTouch unit is being taught. This curriculum is making a difference for our students. Please let Jess know if you need any support or have any questions.
Parent Volunteers: Before a volunteer can begin, you will need to get official confirmation from Cindy or Chris that the parent has passed the background check. Once they say yes, you will need to add them to this weekly google document letting us know who to expect each day.
Important Dates:
SIW Schedule for the year
All Week: State Testing: Korman/ McLarty- 8:00-9:30; Harrelson/ Kandra- 8:30-9:30; grade 5- 9:00-10:00; Holmberg/ Sieh- 10:10-11:10 (If your listed testing time is not correct, please let the office know so that we can make it right on our master calendar.)
Monday: Dental sealants,
Tuesday: Dental sealants, Staff meeting,
Wednesday:  SIW: Teacher Prep; QPS/ IPS- you know if this applies to you
Thursday: Fire Drill in PM, Grade K EBISS
Friday: DIBELS Day, Draft one of student placement is due.
June 17: Last Day of School!