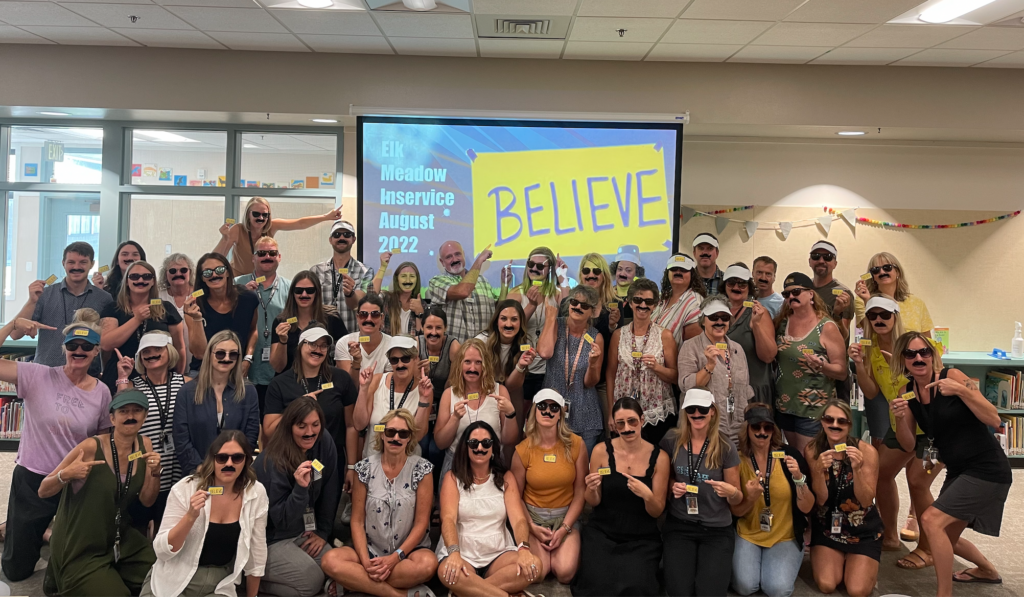 This and That:
Family Connection Phone Calls: Thank you for taking the time to connect with your families! Several of you have asked to have until the end of the month to continue to make phone calls. Making the connections with families is more important than the due date, so please keep making them. Be sure to keep recording your calls and information in our family connection spreadsheet and once you have completed all of your phone calls, see Chris for a timesheet to record up to 6 additional hours. Let me know if you have any questions.
International Dot Day: Dot day is officially Thursday, 9/15, but please feel free to celebrate and create any day this week that works best for you (most people have mentioned that they will likely celebrate on Friday). Dot day was created as an international celebration of creativity, so it fits so well with what we are about here at Elk Meadow.
PE Support (From Jenny White): ​​Participate in a FREE training to learn how to use the BE Physically Actie 2Day! (BEPA 2.0) program in your school. BEPA 2.0 is a school-based physical activity "brain boost" program aligned to physical and health education standards. In addition to 3-hours of professional development credit, participants will receive a FREE BEPA 2.0 Toolkit to use in their classrooms. See the details below on how to register!
Focus on Excellence and Equity:
TLC Update: Here is a link to the latest TLC Update, which is FULL of helpful information and resources. Make sure you take the time to read through it and follow the links. Some items of note: link to folders for foundational skills support and Harmony start-up suggestions,
First Ten Days: Here is a great resource for focusing on building a positive classroom culture during the first ten days of school – great support for your daily SEL time.
COVID & Safety Related Information:
EME Safety Concern Form: Link here. You can use this form to report any safety concerns – big or small. Please use this form or talk directly with Frank or Kelle.
COVID Reporting for Staff & Students:
Staff: If you have a diagnosed case of C19 (not exposure), please be sure to report it to Chris ASAP. She will report it to the district contact tracers, who will contact you and determine your return to work date. Please note that there is not a COVID-19 support team member on call for COVID-19 cases reported after 5pm on weekdays or on the weekends/holidays. A COVID-19 support team member will follow up with positive cases on the next school day.
Students: If a student has a diagnosed case of C19 (not exposure), please be sure to report it to Chris or Nicole ASAP. They will report it to the district contact tracers, who will contact the family and determine a return to school date.
Doors During Recess: The following was in the principals' newsletter this weekend. Be on the lookout from Frank on Monday on how this will work at EME to comply with this:
Contrary to what some schools have been told, this is the final answer on leaving a door open at recess for students to come in and use the restroom. You may have only ONE door of your choice within your fenced perimeter, unlocked during recess for students to come inside to access the restroom, office, etc. That door should be monitored by an adult nearby (don't need to stand at the door like at gates in the mornings, but should not be across the playground either). The door should be locked back up immediately after recess. Thanks for your cooperation with this.
Safety Protocols: Thank you, everyone, for attending our last-minute meeting on Thursday afternoon. We know you are doing all you can to keep our kids safe and to provide our families with the peace of mind that their kids are in good hands when they are at school. Thank you for all your efforts, and thank you for keeping safety as our number one priority. If you ever have any questions about a procedure or a practice, please don't hesitate to ask.
To Do:
Safety Supplies: Ensure you have a bright vest, first-aid fanny pack, whistle, and keys. If you are missing any of these items, please see Chris by Wednesday, 9/14.
Eagle News: Share Eagle News with your class on Monday.
Student Experience/ Cafeteria: When we discussed assigned seating in the cafeteria as a staff, we originally determined that September 19th would be a good starting date; we are wanting to move this date up. As we are watching student practices developing in the cafeteria, we are starting to develop some unwanted behaviors. We do not want to have these become entrenched. Please develop a seating plan for your classroom ASAP. We can continue to adjust as needed.
Day 188-190: Certified staff – please complete your days 188 & 189 if you haven't already.
September Checklist: Everyone should have found a school startup checklist in their mailbox. The certified staff has a full sheet(blue), and the classified staff has a half sheet (coral…ish).  
We are not expecting you to return this to us, but we are expecting you to complete it as a simple professional responsibility.  We know there is a lot of information to start the year, and this should help you remember what we have asked of you. Hopefully, you are not surprised by anything on the list.  Please reach out if you are uncertain about an item or need any support for anything!
Important Dates: